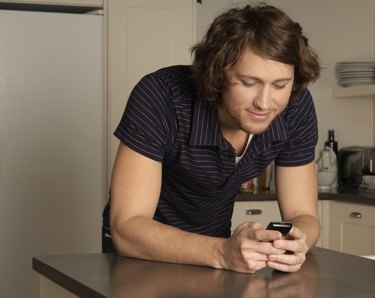 Text messages sent between cellphones are not typically viewable on the Internet. With the iPhone, you can download an app to archive your text messages online, or you can purchase spy software to help. The mobile providers who support the iPhone, including AT&T, Sprint and Verizon, allow you to send text messages from their websites, but they don't archive the messages for you, nor can you receive messages there.
YouArchive.It
Download the YouArchive.It app to your iPhone. This app allows you to upload your text messages to YouArchive.It website for safe keeping. Log into the website to view past text messages. This app doesn't allow you to see new message you've received that you haven't uploaded yet.
iTextUploader
This app helps you work with the YouArchive.It app. Instead of needed a wired connection, you can use this app to send texts immediately to the archive site from wherever you are. This makes your texts immediately available on the archive site, but it requires manual activation -- there's no way to automate the process to make all texts immediately available.
Mobile Spy
Mobile Spy software records every text message sent or received from your iPhone. Once you've set up your phone, just log into the Mobile Spy site to view all activity on your iPhone, including text messages. This allows full access to your iPhone history, including browsing, GPS and call history, so keep your password to the Mobile Spy site secure. The price starts at $49 per quarter as of the date of publication.
SpyPhone
Spyera's SpyPhone software is similar to Mobile Spy in that it lets you track all your phone's activities online, including reading sent and received text messages. This package is a bit more expensive because it includes additional features such as room monitoring, where you can remotely activate the iPhone's speakerphone to hear what's going on in the room with the iPhone, and call interception, where you can be secretly added to listen in on a call in progress on the iPhone. Prices start at $289 for three months as of the date of publication.