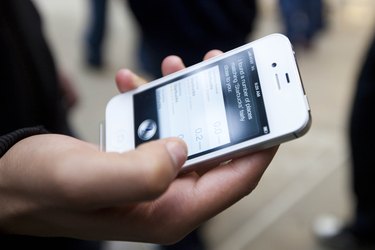 When you run an app on your iPhone, you can view what appears on the device's display on a larger screen, such as your Samsung TV. The iPhone comes with Apple's AirPlay feature already installed. AirPlay enables you to stream the contents of your iPhone's screen to the screen of a TV that's connected to an optional Apple TV.
IPhone Apps
Apple's iPhone is a cellphone with a 3.5-inch color LED backlit display (measured diagonally), and comes with the iOS operating system, which enables it to multi-task, or run multiple apps simultaneously. If you find that the display is too small to easily see all the details of an app, you can view them on a Samsung TV via AirPlay streaming.
Apple TV
An Apple TV is a device measuring 3.9 inches by 3.9 inches by 0.9 inches and weighing 0.6 lbs. It connects to a Samsung TV via an HDMI cable, and connects to your computer network via Wi-Fi, enabling you to play streaming audio and video. You can use an Apple TV to watch online content such as YouTube and Netflix videos on your TV, as well as mirror the screen of your iPhone.
Samsung TV
New Samsung television sets have an HDMI port, which you use to connect to an Apple TV's corresponding HDMI port with an optional HDMI cable. Samsung makes color TV sets with LED, plasma and LCD displays. Models come with displays ranging in size from 19 inches to 65 inches, measured diagonally. AirPlay enables you to demonstrate an app to multiple people on the large Samsung TV screen instead of having them try to crowd around the small screen of your iPhone.
AirPlay
The Apple TV wirelessly connects with your iPhone to mirror the device's display on your Samsung TV. Tap the icon of an app on the iPhone's home screen to launch it, such as the Safari Web browser or the iCal calendar app. Press the device's "Home" button twice, and then swipe a finger to the right against the multitasking bar at the bottom of the display until you see the AirPlay Mirroring icon. Tap the "AirPlay" icon, which is marked with a triangle inside a box, then tap "Apple TV," and then tap "Mirroring" to stream your iPhone's display to the Samsung TV connected to your Apple TV.