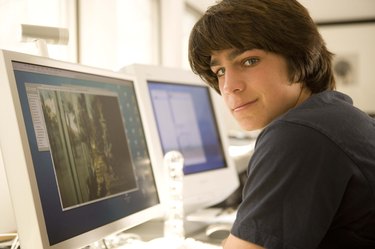 IMVU credits allow you to purchase virtual clothing, accessories, furniture and even real estate. Earning credits is one way to enhance your avatar's appearance and functionality in the program's 3-D atmosphere. Users can buy credits with real-world currency on the IMVU website or earn them through promotional offers. These cheats, listed on the site, include advertising opportunities, surveys, coupon promotions and more.
Coupon Codes
Earn credits through the use of a monthly coupon code generated through your IMVU account. The code grants a $10 discount off of any $50 purchase in the virtual program. Each time this code is used, you earn 1,000 credits. Promote the code in any number of ways: Advertise it on your social networking site, email it to your friends or write about it on your blog. You may generate one code every month; it expires one month from the day you create it.
Complete a Partner Offer
Complete offers from IMVU's partnering companies to earn free credits. Visit the IMVU offers page to browse offers for downloads, subscriptions, surveys and free trials from companies such as Netflix, Groupon and RealPlayer. The number of credits you earn differs on an individual basis, based on the types of offers you solicit and complete. A one-month trial with Netflix, for example, earns you up to 16,000 credits, while a free Facebook application download earns you just 1,000 credits.
Download IMVU 2Go
Download the free IMVU 2Go application to manage your IMVU account and interact with other users right on your iPhone. The application, exclusively available for the iPhone and iPod Touch, includes messaging, chat, news updates and more. Sending your first message through this program earns you 500 credits. The messaging feature on IMVU 2Go is similar to the computer version. Scroll through the home menu to find the "Friends" tab. Choose a friend and send her a message. Alternatively, go to the "Inbox" tab and reply to a message you've received.
Peer Review Products
IMVU users submit the virtual items they create to the product catalog. However, products must be reviewed before they're approved. Reviews determine the ratings and categories of the products, as well as the direction for the merchandising and coverage of the items. Reviewing these products earns you five credits for each review and up to 2,500 credits per day. Visit the IMVU offers page and click the "Review Products" links. Read and accept the "Virtual Goods Policy" to begin the review process.