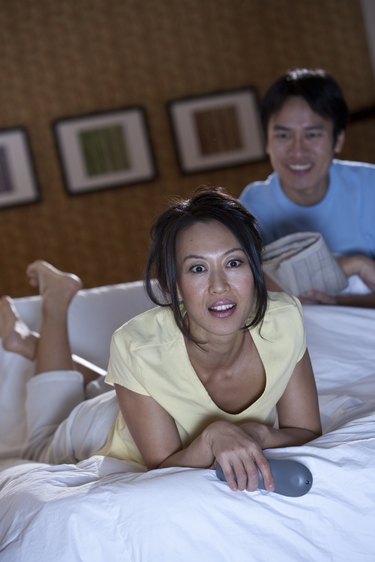 Vizio manufacturers high-definition TVs and other electronics. A Vizio TV has many configuration settings that are accessible through the remote control included with the TV. You can use these settings to program TV channels, select video input devices, control the picture quality and adjust images to fit the widescreen aspect ratio of a Vizio TV.
Initial Setup
Before using a Vizio TV, you will have to complete an initial setup menu that will appear when the TV is powered on for the first time. Use your remote control to choose the menu language, select the "Home Mode" setting and select whether you are using cable or antenna for your TV channel reception. Connect any cable TV receivers or digital antennas before turning on the TV and starting this process, which will automatically locate and program any available channels.
Video Devices
Vizio TVs feature multiple video inputs for connecting a variety of video devices. For the highest quality, it is best to use HDMI video and audio cables, if applicable. Once a video device is connected to a Vizio TV, you can select that device by pressing the "Input" button on the remote. A side menu will appear on the TV screen for selecting the video input channel. You can also apply names to each input channel for easy remembering of where your devices are connected to the HDTV. Press the "Menu" button and select "Input Naming" to access this feature.
Picture Controls
Vizio TVs also have advanced picture control settings for adjusting and improving the appearance of video playback, including color temperature, noise reduction and backlight control. You can find these settings by pressing the "Menu" button on the Vizio remote and selecting the "Advanced Video" option with the selection buttons on the remote. If you ever want to change back to the original settings, select "Reset Picture Mode" from the Advanced Video menu.
HDTV Picture Adjustment
HDTV broadcasts are in the 16x9 aspect ratio, which provides a cinematic widescreen image. However, standard-definition TV broadcasts are still sent in the 4x3 image to accommodate for the square aspect ratio of older TV sets. Standard-definition broadcasts will appear "pillar-boxed" on a Vizio TV, where black bars display on both sides of the screen. When watching 4x3 TV broadcasts, you can either crop or stretch the image to fit the entire screen of the Vizio TV by pressing the "Menu" button on the remote and selecting the "Picture" settings.