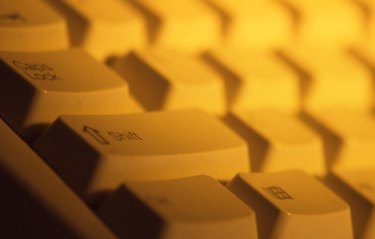 A PRN file, which is a fancy name for a printer file, is a file that is automatically generated by a Postscript printer (this is a printer, usually a laser printer, that decodes information/texts/documents you send it and saves that information in a PRN file). Since there isn't much you can do with it, it can be a good idea to convert your PRN file into a PDF file, which is much more user-friendly and can be read by Adobe. The process to do so is easy and requires very little time.
Step 1
Create a document in a word processing or spreadsheet program.
Step 2
Print the finished document to your postscript printer (see Resources). This creates a PRN file. Before hitting the print button, go to "Properties" on the printer menu and make sure that any details you want changed are changed. If you want the file in grayscale or printed horizontally instead of vertically, this is the place to do it. Hit the Print button, and your PRN file is created. Make note of where you saved the file to, as you will use that in the next step.
Step 3
Open your Windows Explorer menu and navigate to where you saved the PRN file. Once you've found the file (file name.prn), right click on the file and wait for the drop-down menu to appear.
Step 4
Select the "Rename" option toward the bottom of the menu, and delete the ".prn" extension name. Replace the file extension with a PostScript file extention--".ps" Once this is done, simply click outside of the file name box to save your changes.
Step 5
Open Adobe Acrobat and select the "File" option from the menu bar at the top of the screen.
Step 6
Click on the "Create PDF" option in the "File" drop-down menu, and then when prompted, select "From File" in the next menu. This will open a new window, asking you to browse through your hard drive to find the file you want to turn into a .pdf.
Step 7
Locate the .ps file that you recently made and select it. Click on the "Open" button in the lower right corner of your new window. This will create a .PDF file and open it for your automatically.
Step 8
Save the .PDF file wherever you would like by clicking on "save as" in the main menu bar, and you have successfully converted a PRN file to a PDF file.