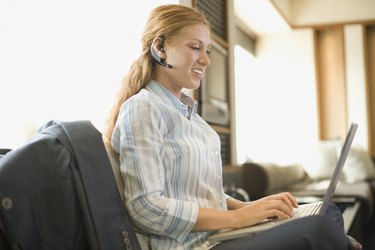 Skype is an Internet service that uses voice over Internet protocol (VoIP) technology to allow people from all over the world to communicate. Skype allows individuals to talk for free to other Skype users, but requires that individuals pay for credit when calling land-lines and cell phones. Aside from this disadvantage, there are several other characteristics that you need to consider before signing up. A couple alternatives to Skype include Vonage and X-Lite.
Use of Computer
Skype requires your computer to be turned on and the software up and running in order to make calls. This is a huge disadvantage, as it prevents you from making and receiving calls when your computer is off. When you receive a Skype call when your computer is turned off, the service does record messages if you subscribe to the voice mail feature. Skype also differs from other voice over Internet protocol services such as Vonage in this way as many other providers do not require computer power in order to work.
Equipment
Limited options exist for individuals who would like to use a typical land-line telephone with the Skype software other than a corded USB phone. Skype officially endorses only two types of traditional land-line telephones that can be used with its service: the cordless RTX Dualphone handset and the Belkin Desktop Internet phone. Phones that use Wi-Fi technology and are specifically made for Skype users such as the one made by NetGear are options, but these options are extremely limited as well. Skype also does not endorse any RJ11 adapters so that generic home telephone can be used with the service.
Customer Service
Skype subscribers who are having difficulty using the service have limited options for getting in touch with Skype customer service. No customer service telephone number exists so that users can speak with a representative; there is only an online help form that allows Skype users to submit a support request. The limited customer service options for subscribed users of Skype is a disadvantage to individuals and especially business customers who may need help in times of emergency troubleshooting.
Call Quality
Call quality from Skype may suffer if you have a slower-than-average Internet connection. Customers may also experience interference during calls if using a Skype Wi-Fi or cordless phone from other devices such as routers, microwave ovens or even Bluetooth-enabled devices that operate at the same frequency.