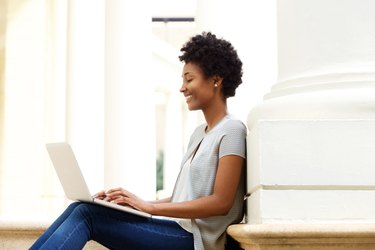 Whether you want to look up directions on your computer and print them out before a trip or use the mobile app to navigate a city that you've never visited before, Google Maps helps you find your way by foot, car or public transit. The website and app provide extra information about nearby destinations and various map modes. However, neither the website nor the Android application include time zone changes.
Background
Google Maps is a free service that you can access through your Web browser to view locations, find local businesses and get directions between two or more points. You can save favorite locations to your Google account and view maps in a variety of modes including satellite images of terrain and traffic and 3-D images, if you have the Google Earth plug-in installed in your browser. Google Maps is also available for mobile devices that use the Android operating system.
Information Shown
Google Maps doesn't include a mode that shows borders for time zones, as of October 2011. However, Google Maps does show additional information. This information includes outlines for counties, states and countries that you may be passing through. You can also instruct Google maps to show the current weather on your maps. If users have uploaded photos of specific locations to Google Maps, you can turn on this feature and see the photo icon when photos are available. When traffic information is available, Google will show where traffic is lighter and heavier with a colorized system.
Considerations
Google Maps provides directions with the distance and estimated travel time. However, unlike some navigation systems, Google Maps doesn't include the arrival time. Thus, it doesn't need to update if you cross into a new time zone. Furthermore, mobile devices in a cellular network will update the current time automatically, unless you have instructed them to use a different time setting. Even if your other clocks don't automatically update, you can rely on your cellphone to do it so you can stick to your schedule.
Tracking Time Zones
There are several ways that you can keep track of the time in multiple zones from an Android device even though Google Maps doesn't include this information. For example, many Android devices let you add multiple cities to the World Clock tab of the Clock app. You can also download apps such as Quick Zone, which allows you to set time zones for your contacts, or WorldWideTime, a widget that shows the time in other places. If you wish to track time zones on your computer when you use Google Maps in your browser, you can add clocks from the default Windows clock program. You can also add the World Desktop Clock Gadget to your Windows 7 or Windows Vista desktop.