Samsung cell phones come in many different varieties under a number of different carriers, from Verizon to AT&T. If your Samsung cell phone can download music, the cell provider will have a music search and download button readily available on the phone. V CAST, a music download service from Verizon, and eMusic, AT&T's music download suite, are the most commonly available for Samsung phones. You'll need Internet functions on your phone to access these services.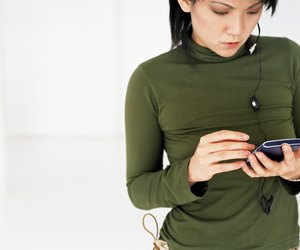 Step
Click on the "Menu" for your Samsung phone. Select "Media" or "Media Center."
Step
Select "Music" from the list of options.
Step
Click on "V CAST Music" for Verizon phones or "eMusic" for an AT&T phone. If your Samsung phone is from a different carrier, click on that carrier's download music button.
Step
Search through the available songs for the music you want to download on your Samsung phone. Click "Download." Confirm your download if necessary. Open your Samsung phone's Music library to listen to the music you downloaded.