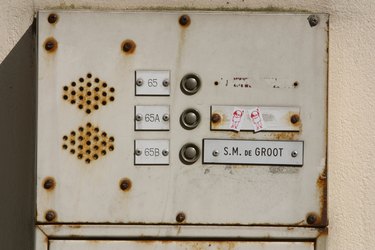 Interoffice communications technology existed decades before the intercom. After Kellogg patented the first Intercommunicating Telephone System in 1894, the ability to communicate with an employee or broadcast official reports to an entire building took a big step forward. As the name suggests, early intercoms relied on telephone technology, but manufacturers continue to improve systems by adopting new tech.
Speaking Tubes
Nineteenth-century businesses developed several methods of interoffice communication before Kellogg's patent. Early in the century, engineers built speaking tubes to carry voices between two people in the same building; some systems worked at distances of several hundred feet. The tubes become common business technology in the second half of the century. By the 1880s, the systems were elaborate enough that one speaker could connect to any of 25 different offices. Some executives favored an alternative, a system of room-to-room buzzers to summon staff to their office.
Telephones
Telephone-based intercoms developed in the 1890s. Simple systems linked two phones in two separates offices, but companies soon developed more complicated arrangements. With a radial system, users called a central station to connect with other offices, but intercom networks made it possible to communicate without an operator. By 1912, if not earlier, users had the choice between a telephone-style handset or a desktop loudspeaker that let users keep their hands free. As late as the 1930s, many intercoms still resembled telephones.
20th Century
Starting in the 1950s, intercoms took on a new role as an electronic doorman for apartment buildings. To gain entrance through the electronically locked front door, you buzz the person you want to see, then talk to her and identify yourself when she replies. If she decides you're acceptable, she hits the button that opens the front door, and you enter. The invention of transistors led to more changes as intercom manufacturers switched to the use of solid-state circuits in their machines.
Changes
The transistor, and the development of digital communications technology, led to further intercom improvements. Starting in 1982, manufacturers began offering door-answering systems that incorporate video as well as audio to identify visitors. Wireless intercoms that communicate by radio frequencies became available starting in the late1940s. Intercom technology has found new niches, for example in baby monitors parents use to check up on their children. In the 21st century, systems use digital technology rather than analog to transmit sound.