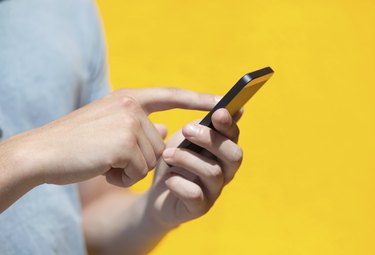 If you installed the Facebook app on an iPhone, or an Android or Windows phone, you can uninstall it if you wish. This may also be possible if the app was preinstalled by your phone provider. Some providers allow you to remove bundled apps; however, some don't. In this case, you may be allowed to disable the app, or you may have to leave it on your phone.
Removing Apps From iPhones
Tap and hold down the Facebook app on your iPhone's screen until all the apps start to shake. You should see an "X" in a circle on the corner of the Facebook app. Tap this "X." Select "Delete" on the confirmation screen to remove the app. Press the "Home" button on your iPhone to restore your screen.
Removing Apps From Android Phones
You typically delete apps in the Settings menu on Android phones. Depending on the phone you're using, you should see an option in this menu called "Apps," "Applications" or "Application Manager." Select this option and tap the Facebook app. Select "Uninstall" and, if prompted, confirm that you want to remove it. If you don't see an option to uninstall, you may not be able to remove the app, but you may be able to turn it off by selecting "Disable" from its menu.
Removing Apps From Windows Phones
Swipe your "Home" screen to the left to open your phone's Applications menu. Locate the Facebook app in this list, and tap and hold it. Select "Uninstall." If prompted, tap "Yes" to confirm that you want to remove the app. If you can't select the app in the list of applications, it may not be possible to remove it.