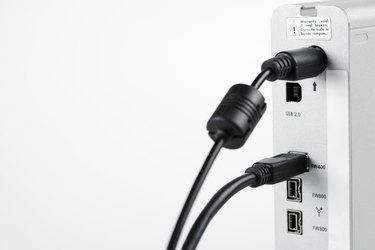 External hard drives are popular as portable data storage devices, but some users prefer to use them as easy-to-install hardware upgrades instead. Unfortunately, installing software to an external hard drive isn't always as straightforward as it is to install and run the same software from an internal drive. Games such as the Sims 3 can still be installed and run from an external hard drive, however, as long as you make sure that you have the hard drive connected to the computer that the game was installed from.
Step 1
Connect your external hard drive to your computer. If it is the first time that the drive has been connected, it may take your operating system a few moments to recognize it and load the appropriate drivers for it.
Step 2
Insert the Sims 3 installation disc into your computer's DVD drive. If prompted as to whether you wish to install the game, select "Yes;" otherwise open Explorer and launch the setup program.
Step 3
Continue through the installation, inserting your product key where prompted. When presented with the installation location, change from the default location and browse to the folder that you wish to install to on your external hard drive.
Step 4
Allow the installation to finish, then launch the game. The EA Updater will check for new content that can be downloaded for you to install; this will download to a temporary directory on your computer, after which the content will be installed into the game on your external hard drive.
Step 5
Plug your external hard drive into the same computer when you wish to play Sims3 and the Desktop or Start Menu shortcuts for the game should launch it with no problems. The game cannot be run from other computers unless you use the same process to re-install the game files each time, as the required registry entries to verify game installation will not be present in the registry of those computers.