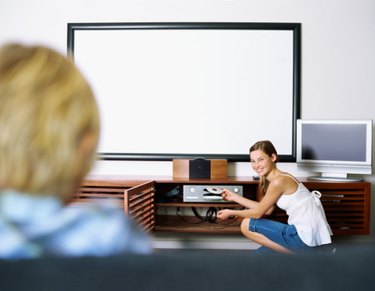 If your Verizon DVR is showing signs of diminishing space on the hard drive, it's time to start backing up your recorded programs to DVD. You'll want to act quickly; some DVRs automatically start deleting recorded shows when disk space is low, and your favorite shows could get wiped out without a warning. (This usually depends on the specific make and model of DVR unit Verizon provided when you signed up for service.) The fastest and easiest way to transfer your recorded shows to DVD is with a standalone DVD recorder hooked up to the DVR unit.
Step 1
Connect your DVD recorder to the DVR unit using standard RCA or S-Video cables. Run the cables from the output on the DVR to the input on the DVD recorder, then run a second set of cables from the output on the DVD recorder to the input on your TV.
Step 2
Insert a blank recordable DVD disc into the standalone DVD recorder. Make sure you are using a DVD format that is supported by your specific machine (DVD-R, DVD-RW, DVD+R, DVD-RW). Follow the on-screen prompts to format the new disc for recording.
Step 3
Select the desired recording speed. Use the highest speed possible for archiving important programs without quality loss. Check the instruction manual for your DVD recorder to look up the recording quality setting your make/model will allow.
Step 4
Select "A/V Input" on the DVD recorder to monitor the DVR sound and picture through the DVD recorder. On some machines, this may be called "Aux Input."
Step 5
Find the program you wish to transfer on your DVR's hard drive. Start playback, then rewind the DVR unit five seconds from the point where the show begins and press the "Pause" button on your DVR remote control.
Step 6
Press "Record" (or "Rec/Pause" for some models) on your DVD recorder's remote. This places the unit in pause mode. You are now ready to record.
Step 7
Un-pause your Verizon DVR and do a five-second backward countdown, then un-pause the DVD recorder. This will produce a nice, clean dub.
Step 8
Repeat Steps 5-7 to edit out commercial breaks in real time while recording.
Step 9
Press "Stop" on your DVD recorder when recording is complete. Then stop playback on the DVR unit.
Step 10
Rewind the DVD and check to make certain the DVR program recorded correctly. If you are satisfied with the recording, you may now delete the show from your DVR unit to free up needed hard drive space.
Step 11
Finalize the DVD disc once it becomes full or you do not wish to add additional programs to the DVD. If you omit this step, your DVD will not play on other standard DVD players.
Things You'll Need
Standalone DVD recorder

RCA or S-video cables

Blank recordable DVDs
Tip
Some Verizon DVR users have reported experiencing problems with transferring their recorded shows to DVD. In most instances this is because of copy-protection technology. If your DVD unit does not support digital-to-digital recording, you may have to sacrifice quality somewhat and instead transfer your shows from the DVR to a VCR using the DVR's analog outputs. You can dub the shows from VHS to DVD later on by hooking those two machines together.
Warning
While it is permissible for individuals to copy a movie or TV show for personal use, the unauthorized distribution, manufacture or sale of copyrighted material is unlawful.