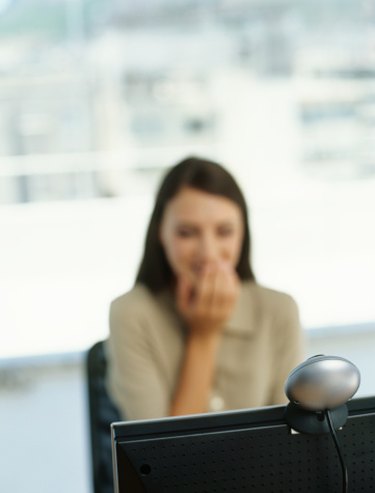 Advances in digital photography haven't just effected the camera and mobile phone industries. Most laptop computers now come equipped with an integrated webcam. Taking a picture with your laptop's webcam is easy, and is a simple way to snap a photograph that is available immediately on your computer.
Step 1
Find or download webcam software. Webcam software can change depending on your computer's brand. Find the webcam software by using the Windows' built search function. Open the start menu and search for terms like "webcam" or "camera." If you can't find any webcam software on your computer, some popular free programs are Yewcam and ManyCam.
Step 2
Ensure your webcam is enabled. Some notebook have webcam on/off switches, while others can be turned on and off using a combination of keys on the keyboard. In most cases you will find that one of the "F" keys across the top of your keyboard will have an image of a webcam. Hold the function key and the "F" key with the image of the webcam at the same time and this should enable your webcam. If you don't have this option, visit the manufacturer's website, which should certainly have instructions for enabling the camera.
Step 3
Configure the camera settings. Webcam software may not be configured correctly the first time it's used. Once you get the program running, look in the File menu and around the interface to see if there are any settings you can change to improve the image. Some things you want to look for are "resolution," "contrast" and "brightness." There is no perfect setting; just choose the settings that are most appealing to you.
Step 4
Verify where the software saves the photo. Before you take your photo, you'll want to make a test image so you know what the output will be like and where the program will save it. This will make it much easier when you go back to look for it later.
Step 5
Take a photo. Usually there is a "capture" button, or something similar, overtly displayed on the program's interface.