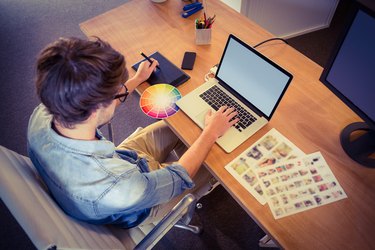 CorelDRAW X7 includes support for multiple languages, but these languages are accessible only if installed with the application during the initial setup process. Switching languages in CorelDRAW is as simple as adjusting a couple of menu options; however, if the language hasn't yet been installed, you need to walk back through the application's initial setup before the different language options appear. You can add languages to CorelDRAW X7 at any time after installing the application.,
Choosing Between Installed Languages
Step 1
Open CorelDRAW and click the "Tools" drop-down. Select "Options" to view CorelDRAW's various user settings.
Step 2
Click the "Global" category to display available language items. Any installed languages display in the "select the language for the user interface" box. If you haven't installed any additional languages, only the language in which you installed the application displays.
Step 3
Select the language you wish to use from the available installed languages. Restart CorelDRAW to apply your changes; the application's UI and help tools will all follow the language settings you have specified after the program finishes loading.
Adding a Language
Step 1
Close all running applications on your computer, including CorelDRAW. Open the Windows Control Panel by swiping to the bottom right-hand corner of the screen, clicking the "Settings" charm and selecting "Control Panel."
Step 2
Click "Uninstall a Program" in the Programs section of Control Panel. Scroll through the list of installed programs until you find CorelDRAW Graphics Suite X7. Double-click the application listing to launch the installation wizard and then choose the "Modify" option. Click "Next" to proceed.
Step 3
Locate the Writing Tools section on the Program Features page of the installation wizard. Open the list and click the check box next to each language you wish to add to CorelDRAW. Follow the instructions provided by the installer to complete the modify process; installed languages will now be available in the Global section of the CorelDRAW Options menu.