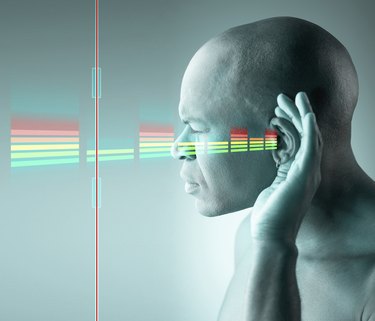 Foobar2000 is an open-source music player and audio file manager. It features user-friendly customization options for creating a layout and look that fits your needs and personal style. The latest versions include a stunning range of visual tools for analyzing aspects of your music, including an Oscilloscope, VU Meter and Spectrum Analyzer -- which should not be confused with the Spectroscope. The Spectrum Analyzer displays a song's signal strength based on its signal frequency, whereas the Spectroscope is a visualization effect that uses this data to create dynamic patterns for your entertainment. Like all aspects of the Foobar2000 interface, the Sprectum Analyzer can be customized using the program's Preferences or Quick Setup options.
Step 1
Open Foobar2000 and enable the Spectrum Analyzer, by clicking on "View," "Visualizations" and "Spectrum." Select a song in your library, and hit the play button to view the spectrum bars.
Step 2
Click on "View," "Layout" and "Quick Setup." Select a color combination from the "Color" list on the right side, and click "OK."
Step 3
Click on "File" and "Preferences" to open the options panel. Expand "Display" and "Default User Interface" in the left-hand menu. Click "Colors and Fonts" to view the color options. Customize the primary color aspects of your interface, by clicking on the color bars and choosing a color from the color-picker.
Step 4
Click the "Highlight" color bar to choose a custom color for the Spectrum bars. If you like the color chosen from the Quick Start list, use the color options to customize other aspects such as Background or Text, until your theme is the way you want it.
Tip
Click on "View," "Layout" and "Enable Layout Mode," then right-click on your Spectrum Analyzer bars to change the number of bars shown from the "Bands" menu.