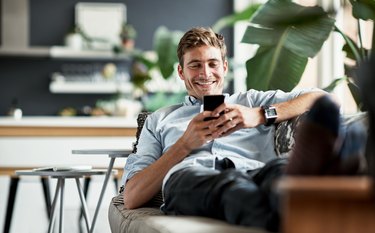 As one of the top cellphone service providers in the industry, Sprint holds its own. With low-priced plans and access to the most popular phones, the company remains a top choice for consumers across the country. You can easily check your voicemail directly from your phone, but you can also dial in from a separate phone.
How to Check Sprint Voicemail
Checking voicemail on your Sprint device is easy, but the method varies from one phone to another. If you have an iPhone on the Sprint network, for instance, you'll open your phone app and tap on the Voicemail icon. If you have an Android phone, you'll press and hold "1" on the dial pad in the phone app.
Once you're into your voice mailbox, you'll be walked through the steps to access your messages. You'll need to input your passcode, at which point your voicemails will begin to play. You can choose to either save or erase each message after listening to it.
Check Voicemail From Another Phone
You don't have to be on your phone to check your Sprint voicemail. You can call voicemail from any phone, including a landline, as long as you know your phone number and passcode. This holds true for most cellphone services.
To call your Sprint voicemail from a phone that isn't your cellphone, you simply dial your phone number. Allow it to ring until it switches over to your voicemail. Once your greeting begins, press the * key and enter your passcode. Your messages will begin to play, and you can save or erase them just as you would have on your cellphone.
Set Up Sprint Voicemail
When you start off with a new Sprint account, the first time you call voicemail, you'll be prompted to set up your account. You don't have to set up your voicemail, but until you do, callers will be notified that you haven't yet set up your voicemail – not the ideal situation if a prospective employer or important client is calling.
When you call in to your voicemail, you'll be prompted to set up your account. You'll also be given an option of either giving just your name or recording a full voicemail message, which is a matter of personal preference.
Change Sprint Passcode
If you forget your passcode or simply want to reset it, you can do so fairly easily. Unfortunately, you can't just call voicemail and do it. You'll need to log in to your Sprint account and select "Preferences." You'll see an item reading, "I want to…" on the right side of the page. Then choose "Manage Voicemail Passcode."
You can also change the passcode on multiple Sprint voicemail accounts under this online option. Choose "Select All," then input both the old and new passcodes. Your new passcode will need to be between 4 and 10 digits. You'll get a confirmation that your passcode was changed. The good news is, once you've established an online account, you can do many things, including being able to check text messages online at Sprint.com.
Check Messages Online
Sprint doesn't offer an option to check your voicemail messages through its website. You can't check text messages online with Sprint either. But you can download a list of numbers you've interacted with over the past 90 days by going to Sprint.com/viewbill. Sprint doesn't save a record of your text message history on its servers, so you'll need to rely on your phone for that.
There are third-party apps that extend the capabilities of major cellphone service providers like Sprint. Services like YouMail offer online access to voicemail, including visual voicemail to text transcription. This makes it easy to check text messages online. Sprint currently doesn't have that feature.