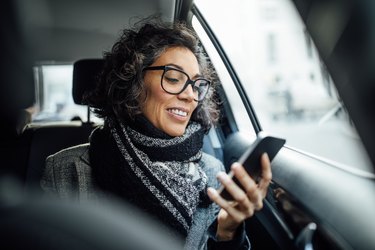 Whether you've lost your phone, don't have a signal or just want to avoid using up your plan's talk minutes, you can easily check your T-Mobile voicemail from another phone as long as you've set up a password. You'll be able to navigate your voicemail as usual, including responding to messages or saving them for later. There are also other alternatives you can consider that involve making no call at all, including using visual voicemail and the My T-Mobile website.
Setting Up Your T-Mobile Voicemail
Before you can check messages from your voicemail on another device, you need to ensure you have fully set up your voicemail. This includes making a greeting and creating a password for access.
To begin, hold down the "1" key, or voicemail key, on your mobile phone to dial in. Once you've reached your voicemail, you'll follow the prompts. If this is your first call to voicemail, you'll be asked to enter your cell phone number's last four numbers as an access code and will then need to create a password between four and seven digits. Keep this password safe since you'll need to contact T-Mobile's customer service if you forget it.
Finally, you'll set up your greeting. After that, you'll hear a confirmation that your voicemail is ready for use.
Calling Voicemail From Another Phone
Whether you want to check your voicemail from another cell phone or from a landline, you'll simply call your own phone number. When the call reaches the voicemail system, press your phone's "*****" key when you hear the initial greeting. You'll be asked for your voicemail password to continue.
Then, you can use your voicemail system as you normally would. You'll hear about how many new messages you have, and the voicemail system will begin reading any new messages. You can press "7" if you want to delete a message or "9" to save it. You'll also hear prompts to press "1" to replay the message or "8" to call the person back. You can alternatively press "6" to hear a full list of options, including replying with a message or forwarding the message.
When you're done checking your voicemail, you can just hang up the call.
Alternatively Using Visual Voicemail
If you have an Android phone and still have access to your phone, an alternative to calling from another device is to use the T-Mobile Visual Voicemail app to check messages. If you got your phone directly from T-Mobile, you probably already have this app, but, otherwise, you can download it from the Google Play store. This app uses your phone's cellular data connection, so you won't have to use your talk minutes.
After launching the app, you'll see your inbox of messages, where you can simply tap one to get more details and play it. You'll also see buttons you can tap to call the number back (this will use your phone minutes as usual), to send a text message, to delete or forward a message, to save the message or to mark the message as unread.
If you're an iPhone user, the Phone app already has a Voicemail tab where you can see and listen to messages without having to call the voicemail. You'll have similar options to respond to the message, delete it or forward it.
Checking Voicemail From Your Computer
T-Mobile's website offers you a phone-free alternative for checking your voicemail from your computer. You'll start by logging into My T-Mobile and selecting the "Phone" option on the navigation bar. You'll see information about your primary phone, including a link on the right side that says "Check Voicemail." If you have multiple phones, you'll see a drop-down menu above where you can select your phone and see the same option to check voicemail.
If this is your first time using this online service, T-Mobile will ask to send a confirmation code to your phone via text, and you'll need to enter that code to continue. Once you're in, you'll see a page with a tab to view your missed calls, voicemail messages and texts. You'll even be able to make calls from your web browser.