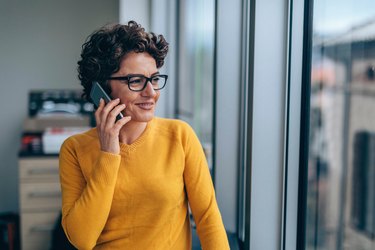 T-Mobile's affordability has made it one of the most popular cellphone services, with a 17 percent market share as of the third quarter of 2018. One of the first things you need to do when you get a new phone number or switch carriers is to set up your voicemail. Once you've completed your T-Mobile voicemail setup, you can start checking your messages.
Call Voicemail on T-Mobile
As with many cellphone service providers, accessing your voicemail means placing a phone call to your mailbox. To check your messages, you press and hold the 1 key on your device's dial pad. You can also dial 123 to get there.
You can alternatively check your voicemail from a landline or another cellphone, which comes in handy if your phone isn't nearby. To call voicemail, dial your mobile number, which serves as your T-Mobile voicemail number, and press the ***** key when your greeting starts. You'll be prompted to enter your password, and after you do so, you can follow the prompts to check your voicemail.
Set Up Your T-Mobile Voicemail
Before you can check your messages, though, you need to set up your voicemail. Do this as soon as possible after you get a new phone number to ensure that people can leave a message if you can't answer. T-Mobile voicemail setup uses the same process as checking your voicemail, but you'll get a different series of prompts when you call.
To set up your T-Mobile voicemail, press and hold the 1 on the dial pad. If you're prompted for a password, input the last four digits of your mobile number. Create a new password when prompted, ensuring it's between four and seven digits. Then record your name and your greeting. After you finish, your voicemail box is ready to accept voicemails.
You can change your voicemail greeting at any time by pressing and holding the 1 key and then choosing * once your greeting starts. Choose 3 to get to the Greeting menu and then 2 to begin recording your greeting.
Check Voicemail While Roaming
No matter where you are in the world, you'll likely want to stay in touch with friends and family. If you're roaming internationally, you can still check your T-Mobile voicemail, but there is an extra charge for that. You'll still be able to receive voicemails without charge. However, if you call voicemail while outside your country, you are charged at the international roaming rate for that country.
If you want to travel internationally without those high fees, set up your T-Mobile voicemail number to text and call while you're abroad. This is done by changing your plan to the Simple Choice or T-Mobile ONE, which lets you talk and text in more than 210 destinations across the globe. To check which plan you're on, go to the T-Mobile website and change your plan in advance of leaving, if necessary.
Reset a Lost Password
During the T-Mobile voicemail setup, you set a password. It needs to be between four and seven digits and be something you can remember but can't be easily guessed. If you've forgotten your password, go to My T-Mobile and choose Forgot Password? You'll be prompted to input your billing ZIP code and verify via text, email or a security question.
You can easily change the password for your T-Mobile voicemail number at any time through My T-Mobile. Choose Profile after you're logged in and then T-Mobile ID from the drop-down menu. Next to Password, click on Edit and input the new password you want. You can also change your password in the T-Mobile app under Profile Settings > T-Mobile ID.