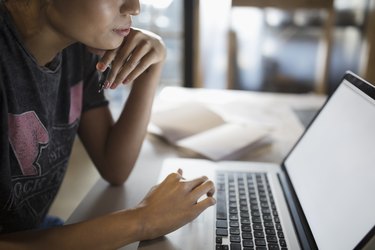 If you live in the Philippines, you're probably familiar with Smart Communications. As the top wireless provider in the country, Smart's phones are everywhere. If you own one of Smart's popular prepaid phones, you occasionally need to perform a Smart load check to determine how many calls and text messages you can send and receive. Fortunately, checking the balance is easy.
Launching a Smart Balance Inquiry
Smart prepaid wireless subscribers can get their current balance by text by going to Smart Menu and choose Buddy Balance/Prepaid Balance to set up the feature. You can then get your balance at any time by texting ?1515 to 214. Alternatively, you can call 214# to get your balance by text.
If you prefer to check online, do this by going to the Smart.com.ph website. You have to register to link your account and get the balance, but other management features make it worth signing up.
Check Balance in TNT
Smart Communications owns TNT, sometimes referred to as Talk 'N Text, which offers low-cost phone packages in the Philippines. You can check your TNT talk and text balance by going to TNT Menu > Balance Inquiry. You can also get your balance via text message by texting ?15001 to 214.
As with prepaid wireless subscribers, TNT customers can go to the Smart website to get a load balance update. If you have the My TNT app, the information is readily available on the overview screen.
Check Balance While Roaming
When you travel outside the Philippines, your phone may enter roaming mode. Because rates for roaming start at PHP20.00, you'll understandably be hesitant to launch a text message to check your balance, especially if you're concerned you're running low. It's important to do a Smart load check before you leave home and take a look at roaming fees for the area where you'll be traveling. This awareness can help you stay on top of your phone usage while you travel.
The good news is that you can send a talk and text balance inquiry for free. To do this, use the Presyong Pinoy Text Menu, which means dialing *133# and press Call. Then choose 2 (Balance Inquiry) on the menu. If you have trouble, you can always check your balance at the Smart website.
Reloading Your Smart Wireless Account
If your Smart load check determines you're out of talk and text time, you can easily get more. While you're in the Philippines, purchase Smart load at any time through the Smart Online Store. You select the amount you want to buy and log in to purchase.
If you're outside of the Philippines when you want to reload your balance, dial *133# and press Call. Choose 3 (Load) from the menu, and then 2 (CTC Loading). You then input the 14-digit Call and Text Card PIN. For this to work, though, you need to have plenty of money on your call and text card before you leave.
Send Load to Friends
If you or a friend checks a Smart balance inquiry, only to find that you're out, you can send prepaid credits to each other. This is done through a service called Pasaload and has a fee of P1. To use this service, you text PASALOAD with the recipient's name and amount to 808. Your text would look similar to this: PASALOAD 09191234567 10.
After you send a Pasaload, you are charged a fee and the amount is deducted from your account. Both you and your recipient receive a text message confirming the transfer. Your recipient should see the updated amount in a talk and text balance inquiry soon after.