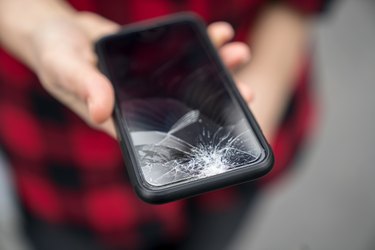 A broken phone does not stop you from retrieving import text messages. You can easily retrieve texts from a broken iPhone or Android device. The iOS system actually makes it possible manage and respond to text messages from a different device when your phone is broken, lost or not functioning. The multi-device account connection is a handy tool for managing messages, emails and everything that happens within iTunes. The actual phone type does not necessarily matter either. Ultimately, retrieving messages from your broken phone makes it possible to continue your communications while determining the best route forward.
Retrieve Texts from Broken iPhone
To get text messages off iPhone 4, 7, 8 XS or any other iPhone model, you will utilize iTunes from your home computer, iPad or other iTunes compatible device. Your iTunes account makes it possible to enable SMS on any device connected to the account. Unfortunately, you must setup the message forwarding on your phone by entering the settings and selecting device from message forward menu. A broken phone may eliminate this option unless the screen is only cracked and you still have some ability to view and navigate through the process. If forwarding is not possible on the broken phone, you must download a recovery program to your iPad or home system and connect the phone to the device with a USB. Run the recovery software to extract your text messages and other data from the phone.
Android Message Systems
You can quickly recover text messages from broken Android phones using a recovery software program. The programs are surprisingly abundant and most will require a quick install on your computer. After the install, you must connect the phone to your computer using a USB cable. Click "Allow" when the computer requests permission to access the phone files and use the software to download your phone to a backup file. This method also works for photo files, video files and other downloaded media stored on your phone. Alternatively, you can simply connect the USB and access the DCIM file to locate stored media on your phone. This will not, however, provide access to text messages.
Fix or Replace Your Phone
Accessing your text messages remotely buys you some time to determine the best path forward. Cracked, broken and burned out screens on phones are surprisingly easy to replace. Independent vendors are capable of replacing the entire LCD display with a brand new unit. On a new phone is not protected by warranty, repair is a good option. On older phones, consider a replacement and check with your provider for a potential free or discounted phone upgrade.