Apple doesn't include screen savers on iPads; it uses wallpapers to do much the same job. Use preinstalled dynamic or still images, or select photos from your Camera Roll to place wallpapers behind apps on the Home screen or on the Lock screen when the iPad is in Sleep Mode.
Open Settings and tap Wallpaper to display your current wallpapers. To change to a new image or photo, tap Choose a New Wallpaper.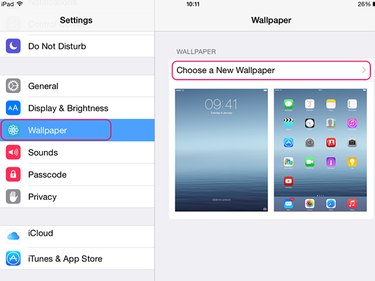 Choose a default Apple wallpaper by tapping Dynamic or Stills. At the date of publication, dynamic options include seven colored screens with floating bubbles. Still images include landscapes, flowers, colors and designs. To use a photo as a wallpaper, tap Camera Roll to open a list of photos from your library.
Choose the image or photo you want to use as a wallpaper and tap it. Check the image preview to see how it will look on the iPad's screen. Go to the options at the bottom of the preview screen. If you don't like the image, select Cancel to return to the list. To set the wallpaper, tap Set Lock Screen, Set Home Screen or Set Both and wait for it to install.
Tip
If you've selected a default still image or a photo from the Camera Roll, you may see an option to turn Perspective Zoom on or off. If you turn the feature on, the wallpaper may not scale to fit the screen or it may zoom incorrectly.
Tip
You can also set a photo as wallpaper from the Camera app. Tap Camera and open your photos. Select the photo to use and tap the Share button, a box with an up-arrow. Select Use as Wallpaper and choose a screen option.

To change Perspective Zoom after you've set a wallpaper, open Wallpaper in Settings. Tap the image and then tap the Perspective Zoom button to change the default.
If none of the default wallpapers appeals to you, and you don't have photos you want to use, you can download free wallpaper apps from the App Store. You can also save online images and photos sent as email attachments to your Camera Roll and use them as wallpapers.
If your wallpaper shifts position when you move your iPad, and you want to stop this effect, change the screen motion settings. Open Settings and tap General. Go to Accessibility and enable the Reduce Motion button.

Warning
You can't delete a wallpaper once you've enabled it. To remove it, you must replace it with a new image or photo.

The bubbles on Apple's dynamic images move on the screen and use more battery power than still images or photos. This may not be a significant problem, but if it is, change to a still wallpaper.