Any photo on your iPhone can serve as the background or wallpaper image for the Home and Lock screens. However, high-resolution photos that you take with the iPhone's camera are larger than the actual screen. Use the iPhone Settings app to change the size of a wallpaper photo and properly scale it to fit the screen. After the image is in place, drag it to position it properly. After an image is positioned to your liking, set it as the lock screen background, main wallpaper or both.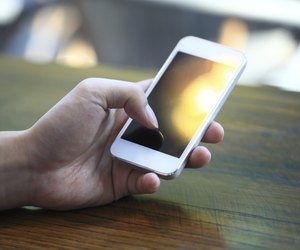 credit: fatesun/iStock/Getty Images
Step
Tap "Settings" on the iPhone Home screen. Choose "Wallpapers and Brightness."
Step
Touch "Choose a New Wallpaper." The "Dynamic" and "Stills" sections contain images that Apple provided with the iPhone for use as wallpaper; these images cannot be resized. Tap one of the albums or photo streams listed in the Photos section to choose from your own photos.
Step
Browse through the available images on your iPhone and select the picture you want to use as wallpaper.
Step
Adjust the chosen image to appear exactly the way you want. Tap and drag the image to move or center it. Pinch the screen with two fingers to adjust the size of the wallpaper.
Step
Tap "Perspective Zoom" to enable or disable this feature. Turn on perspective zoom if you want the wallpaper to have a slight three-dimensional effect or leave it off for a traditional static wallpaper.
Step
Touch "Set" when you are satisfied with the position and zoom of thw wallpaper.
Step
Tap "Lock Screen Wallpaper" or "Home Screen Wallpaper." Choose "Both" to use the image on both the Lock screen and the Home screen.