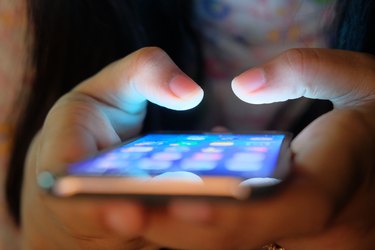 Screensavers were invented to prevent an image from burning into a computer monitor over time. After a few minutes of inactivity, a screensaver would kick in, bouncing an image around the screen to protect it. Even though today's devices don't need that protection, consumers still like to personalize the look of their phones, tablets and computers. The closest thing you come to an iPhone screensaver is what was traditionally thought of as a desktop wallpaper.
Set iPhone Screensaver
To change your iPhone screensaver, go to "Settings," and then "Wallpaper." From there, select "Choose a New Wallpaper." There are plenty of images included your phone's operating system, separated into Dynamic, Stills and Live categories. The selection of wallpapers changes with each new operating system update. Below those options, you'll see a list of categories of photos you saved on your phone. Click on one of those categories, find the photo you want as your wallpaper and click on it.
Whether you choose a built-in iPhone wallpaper or one of your own, you may be prompted to choose either "Still" or "Perspective." Still is a standard wallpaper display, but with Perspective, the wallpaper moves as you tilt your screen. You are then prompted to decide whether you want your new wallpaper to be set for your iPhone lock screen, which is the screen that shows when your screen is locked, your home screen, which is the screen you see behind your icons, or both.
Download Wallpaper From Internet
You may not want to use a photo or a standard iPhone wallpaper as your iPhone screensaver. In that case, you can find a wide selection of images online. Do a Google image search on your phone for "iPhone wallpaper" and search words relating to the type of photo you want – "iPhone wallpaper beach," for example. When you find an image you like, click on it to enlarge it and then hold your finger on the photo until the "Save Image" option appears. When you save the image, it downloads to your Photos app, where you can choose it as your iPhone lock screen and home image through Settings.
Change Screen Timeout on iPhone
Once you've set a wallpaper for your iPhone lock screen and home screen, you may find you see it a little too often. You can adjust the screen timeout on your phone. It's important to note that having it set too high or turning it off altogether, could weaken an important security feature. If you misplace your phone and someone picks it up, having a lock screen makes it impossible for it to be unlocked without a passcode or recognized thumbprint. To adjust the screen timeout, go to "Settings," "General," "Auto-Lock" and choose your preferred timeout value. If you have an iPhone 6 or later phone, you'll find Auto-Lock under "Settings," "General" and "Display & Brightness."