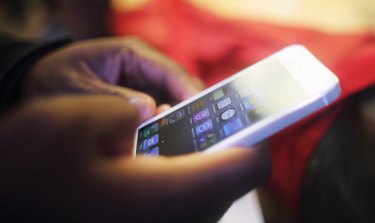 You can change the generic wallpaper that appears on your iPhone's lock screen and home screen at any time by selecting any of the pre-installed wallpapers that come with the phone or choosing your own photo. None of the iPhone's pre-installed wallpapers use a plain background, so if you don't want a design or a photo as your wallpaper, you'll need to create a plain background yourself. After customizing your iPhone you won't ever have to worry about getting it mixed up with someone else's when you put it on a table during a business meeting.
Replacing the Lock Screen Wallpaper
Step 1
Tap the "Settings" icon on the iPhone's home screen. Scroll down the screen and select "Brightness & Wallpaper." Tap the image showing your lock screen and home screen wallpaper. A list of folders appears.
Step 2
Select the "Wallpaper" folder if you want to use another of the iPhone's pre-installed wallpapers. Select "Camera Roll" to select your own picture or any of your other folders from your Photos app.
Step 3
Tap the "Set" button followed by "Set Lock Screen" to replace your current lock screen wallpaper with this image. You can also tap the "Set Home Screen" or "Set Both" buttons if you also want to change your home screen wallpaper.
Creating a Plain Background
Step 1
Launch Safari on the iPhone and go to any search engine. Select "images" and type the color you want to use as a plain background on your iPhone's lock screen, like "white," "black" or "navy blue."
Step 2
Hold your finger on the image for one second and release it. Select "Save Image" from the pop-up menu that appears. This saves the image to the camera roll in the Photos app.
Step 3
Select this image when changing your iPhone wallpaper following the steps in Section 1.