All veteran Mac enthusiasts know that printing to PDF has been a built-in feature in OS X since -- well -- forever. With changes to iPhoto 9.6 in OS X Yosemite, you can still print a photo as a PDF. The option just isn't obvious until you proceed to the end of the printing process. Landscape photos are automatically rotated when printing from iPhoto, which makes sense when you're printing on paper but is hardly helpful if you're creating a PDF. If this happens, you can change the rotation using Preview before saving your file.
Step 1
Launch iPhoto and select the image you want to save as a PDF. Do any last-minute photo editing before proceeding. To print more than one photo in the same PDF, just "Command-Click" the photos you want.
Step 2
Press "Command-P" or click the "File" menu and select "Print." A printer icon appears on the right with options for sizing the photo. Select the size and fitting you want. Don't look for a PDF option here; there isn't one.
Step 3
Press "Command-P" again or take the mouse route through the File menu. A new Print window appears with Apple's familiar PDF button at the bottom. Click that button. If you're happy with the image orientation, select "Save as PDF" and then proceed to find a location for your PDF file. If want to rotate the image, select "Open PDF in Preview."
Step 4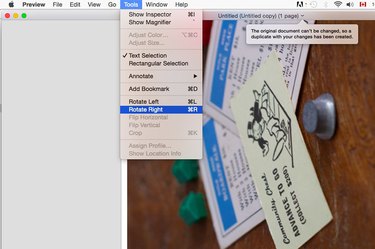 Click the "Tools" menu in Preview and click "Rotate Left" or "Rotate Right" to change the PDF's orientation from portrait to landscape mode. The keyboard shortcuts for this are "Command-L" and "Command-R." Note that OS X Yosemite always makes a duplicate of the image as soon as you modify it, so you don't have to worry about writing over the original.
Step 5
Press "Command-S" or select "Save" from the File menu. Choose a name for your PDF and save the file to your Mac.