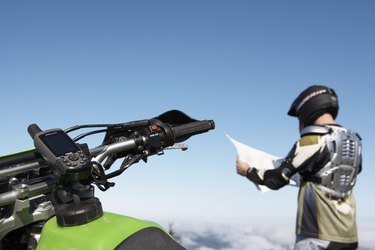 If you want to upgrade the firmware on your TomTom GPS unit, download new maps for it, or just want to know its technical specifications and supported file types, you must first determine its model. Your TomTom GPS unit has a serial number printed on its box and on the device itself that you can use on the official TomTom website to find the model. Note that you must conduct a second search to find the technical specifications of the device. You can find the serial number for insurance purposes even if you lost the GPS unit and its box.
Locating the Serial Number On Your TomTom
In most cases, the serial number is printed on a small label on the bottom of the unit, next to or below the bar code. If you can't locate the serial number, remove the back or bottom cover to find the label. The serial number is usually preceded by "S/N:," "C. No:" or "C_No.". If you lost the device, you can get the serial number if you previously connected the GPS to your computer at least once using the MyTomTom support application. Open File Explorer and then navigate to the "C:\Users\Your_User_Name\AppData\Local\TomTom\HOME3" folder. Double-click the "prefs.ini" in Notepad or WordPad and then locate the "MUID=" field. The MUID value is the serial number of the last TomTom device connected to your PC. If you registered your GPS unit, contact TomTom Customer Service and request the serial number.
Determining the TomTom Model
Open the "Which TomTom device do I have?" page (link in Resources) and type the first two letters of the serial number into the field. Click "Find" to display the model. The result does not provide any technical specifications or features, so use the search box to the right to find more information about the model.