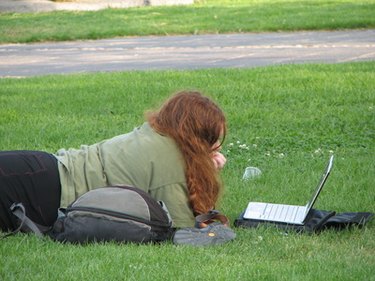 MacBook Air is one of the latest laptops from Apple. By registering your MacBook Air, you become eligible for critical product updates, free online tutorials and product support, as well as enabling the product's warranty. When you originally set up your MacBook Air, you will be given the opportunity to register it with Apple. However, if you skipped this step, have a previously-owned MacBook or have had to reinstall the operating system, you can register at any time through the Apple website.
Step 1
Create an Apple ID account if you do not already have one. Open a browser and navigate to the Apple ID account web page (see Resources). Enter your name and contact information into the ID form. Create an ID name and password. Click "Continue" to submit the form.
Step 2
Navigate to the Apple product registration page if you are not automatically redirected there (see Resources). Log in with your Apple ID.
Step 3
Select "Portables." Choose "MacBook Air" and click "Continue."
Step 4
Enter your MacBook Air's serial number. Select where you will be primarily using the product and your occupation. Click "Continue."
Step 5
Review your product registration information and click "Finish." Your MacBook Air is now registered with Apple.