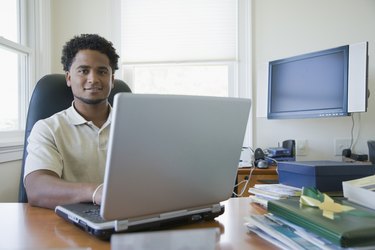 Restoring a computer to its factory settings returns the computer to the original operating condition. The restoration can be helpful for users experiencing a critical system malfunction because of a virus, accidental deletion of files, corrupted hard drive or system error. For Dell Intel Pentium owners, the manufacturer includes a built-in recovery partition to guide the user through the restore process. Restoring a computer also is useful for wiping the hard drive clean before it changes users.
Step 1
Close any programs running on the computer and shut it down. Restart the computer and press the "F8" key when the Dell logo appears on the screen. This will open the "Advanced Boot Options Menu."
Step 2
Disconnect printers, scanners, MP3 players, smart phones, external hard drives or any other hardware device from the computer. Their operating systems can be damaged by the computer's restore process. Keep the mouse and keyboard connected as well as the power supply.
Step 3
Navigate with the arrow keys to the "Repair Your Computer" option. Press the "Enter" button. Select your desired language settings and click "Next." Log-in with the administrator account and click "OK."
Step 4
Click the "Dell Factory Image Restore" icon and click "Next" on the restore program's welcome screen.
Step 5
Click the check box for "Yes, reformat hard drive and restore system software to factory condition." Click the "Next" button to begin the restore process.
Step 6
Click "Finish" once the restore process is completed to restart the computer with the factory settings in place.