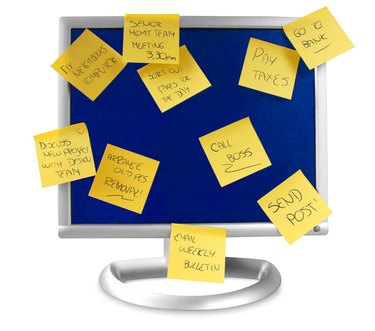 You can integrate David Allen's Getting Things Done methodology with Microsoft Outlook 2013 using categories, follow-up flags and priorities. While you can manually configure Outlook on your PC to implement the GTD methodology, several Outlook add-ins offer advanced GTD integration tools. You can create tasks directly from your other Outlook items, such as email and appointments, and then assign them to projects and action lists to help you process your in-box more efficiently.
Manually Configuring Outlook for GTD
Step 1
Enter each of your projects into Outlook as categories so that you may associate items with specific projects. Right-click an email, appointment or task, click "Categorize" and then "All Categories." Click the "New…" button. Add each project name and assign a color.
Step 2
Convert other Outlook items into tasks as they come to your attention. For example, you can convert an email message into a task. Drag-and-drop an appointment, mail message, contact or a note over "Tasks" in the navigation pane to automatically create a new task from the item's content.
Step 3
Assign flags and priorities to your tasks. Open a task and then click the commands in the Follow Up group of the Home ribbon in Tasks to add a flag. Click the "Priority" button in the Tags group to mark an item as "High Importance." You can use this indicator to mark your action items following the GTD methodology.
Step 4
View your task list by project, date or importance. Click "Tasks" in the navigation pane. Click the "View" tab. Select from the view options available in the drop-down box in the Arrangement group. For example, select "Categories" to arrange your tasks by projects, "Start Date" or "Due Date" to arrange your tasks by date, or "Priority" to arrange your tasks by priority.
Using the NetCentrics GTD Outlook Add-in
Step 1
Download and install the free trial of the Getting Things Done Outlook Add-in by NetCentrics. This add-in is designed to simplify your ability to process Outlook items following David Allen's methodology.
Step 2
Select from the key actions in the NetCentrics toolbar to process your Outlook items into tasks. For example, select one of these actions from the Getting Things Done group of the Home ribbon: "Action," "Next Action," "Delegate," "Defer" or "Someday." When you select one of these commands from a mail item, a task is filed in its respective folder and the action is assigned to the task.
Step 3
Manage all of your ongoing projects using Project Central. Click the "Project Central" button in the Getting Things Done group of the Home ribbon. You can use this window to help you organize tasks into specific projects.
Step 4
Generate a project report. Click the "Project" menu button in Project Central and then click "Create Report… ." Select the options to include in your report. For example, select "Due Date" from the Sort Tasks By drop-down. Click "OK" to generate your report. Click the Print button to print your report -- it's labeled with an icon resembling a printer.
Using the TaskCracker for Outlook Add-in
Step 1
Download and Install the free 30-day trial of TaskCracker for Outlook. TaskCracker helps you organize your Outlook items using a visual representation of your tasks and projects with a drag-and-drop interface.
Step 2
Click on the "Open TaskCracker" command in the Open group of the TaskCracker ribbon. Alternatively, you can click "TaskCracker" at the bottom of the Folders pane on the left.
Step 3
Organize your tasks based on priority. Click on a task, drag it to another quadrant inside of the TaskCracker screen and then release it to assign the task to that priority. You can use this method to quickly assign actions to your task list without having to open each individual task.