Unlike many of the features in a modern computer, backlit keyboards are controlled by the hardware manufacturer rather than the operating system. The method for illuminating the keyboard on one computer won't necessarily work on another. Most illuminated keyboards can be turned on or off using the keyboard itself, either by pressing a special backlight key or a combination of Function keys. Other computers, like Apple and Sony notebooks, use software controls to adjust the illumination settings.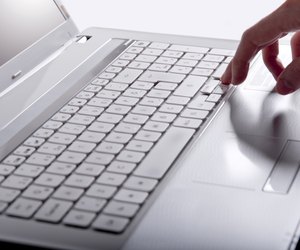 credit: sprng23/iStock/Getty Images
Using Illumination Key Controls
Step
Press any key when using a backlit keyboard in darkened conditions. Some keyboards have a light sensor that detects ambient light levels in the room, automatically illuminating the keyboard when it's in use.
Step
Look at the Function keys at the top of the keyboard. This is a common place to find controls for an illuminated keyboard. The icon on the key often looks like a series of horizontal dots. If you don't see a likely icon there, look at the other keys. Some HP computers have the icon on the F5 key, F12 key or the spacebar. Some Samsung notebooks have two illumination keys for increasing or decreasing the brightness -- one with a "+" symbol on the F9 key and a "-" symbol on the F10 key. Asus computers often use the F3 and F4 buttons to increase and decrease keyboard brightness. Logitech keyboards have a single key, with a lightbulb icon, located above the number pad.
Step
Press the appropriate key to turn the keyboard light on or off, or to increase or decrease its brightness. On HP keyboards, this is all you have to do. If this doesn't work, hold down the "Fn" key and press the illumination control key again. This key combination is common on Samsung and Asus notebooks.
Using Software Controls
Step
Launch the manufacturer software controls on your computer. For a Sony VAIO, launch the "VAIO Control Center." To find this quickly, just type "VAIO" in Windows Search and select it from the Apps section. On an Apple computer, launch "System Preferences" from the Apple Menu.
Step
Select "Mouse and Keyboard" or "Keyboard" from the available controls.
Step
Select "Keyboard Backlight" on a Sony VAIO and follow the on-screen prompts to configure the backlight options. On an Apple computer, click the "Illuminate keyboard in low light conditions" check box.