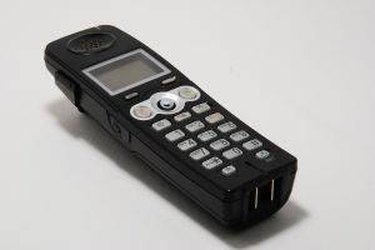 Definition
Wireless phone jacks enable you to increase the amount of phone jacks in your home without running additional wires. Wireless phone jacks rely on an existing phone line within your home to add extra jacks wherever there is an AC outlet. These systems include a transmitter and a receiver that work together to distribute phone service throughout your home. Most wireless phone jack systems can handle multiple receivers communicating with one transmitter, meaning that you can enjoy wireless phones in every room of your home.
Installation
You do not need any tools to install wireless jacks; the transmitter and the receiver plug directly into an AC outlet with a three prong plug. Your first step is to plug in the transmitter into an outlet that is in close proximity with a working phone jack. The transmitter, or base unit, has two phone connectors located on the side of the small plastic casing. Your next step is to plug in a phone cord from the nearby phone jack into the wireless transmitter into the connector marked "Line." The other connector is typically marked "Phone" and is where you connect your handset or wireless phone. Plug in the receiver to another AC outlet in another room of your home where you would like to have phone service. The receiver has one connector marked "Phone" on the side for installing your phone handset or base. Surge protectors, extension cords and electrical strips are not recommended for wireless phone jack transmitters or receivers. They should be plugged directly into the outlet.
Application
Wireless phone jacks work with any wired handset or wireless phone, fax machine, satellite receiver, dial-up modem or VoIP phone connection. Receivers plugged into an outlet nearby any of these phone-related devices work the same way as a traditional wall outlet works for the same device. After you set up the transmitter, simply plug the phone cord from your fax machine, satellite receiver or other phone connector into the wireless phone jack receiver. Most receivers and transmitters have red or green indicator lights so you can immediately see that the service is connected.