When you delete an email in your Yahoo Mail account, it ends up in the Trash folder. Emails in the trash aren't permanently erased immediately, but you can't rely on them to remain for a predictable period of time. According to Yahoo, the Trash folder empties "at occasional intervals," so deleted emails might get erased at any time.
Recover Deleted Emails
If an email you deleted still shows up in the Trash folder, it's not too late to recover it. Check the boxes by one or more emails in your trash, click Move and pick Inbox or another folder to move the messages out of the trash and keep them safe. Messages in the Inbox are never erased automatically. On the other hand, if you click Delete while in the Trash folder, you'll erase the selected messages forever.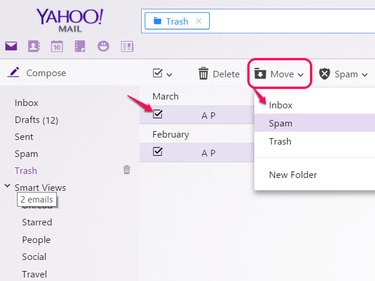 Deletion of the Spam Folder
The Spam folder automatically collects junk mail. Like the Trash folder, Yahoo permanently deletes all mail in the Spam folder on occasion. Unlike the Trash folder, however, you have control over the interval between deletions. Open the Yahoo Mail settings to the Security tab and choose a time period. Yahoo defaults to One Week.
Recover Permanently Erased Messages
About Restore Requests
Even if Yahoo has emptied the Trash folder and permanently erased a message, it might not be too late to bring it back. Upon request, Yahoo attempts to roll back your entire email account to an earlier point within the last seven days, potentially restoring emails that are otherwise irrecoverable.
Request a Restore
Fill out the Restore Request form to start the restoration process. Pick a reason for the request, such as Mail: Accidentally Deleted Messages on Web Mail and then pick a restore point.
Enter the security code and click Create Request. The restoration process requires work on the part of a Yahoo employee, so you won't see immediate results. If you make a mistake in the form, send a second request -- Yahoo only honors the most recent request.