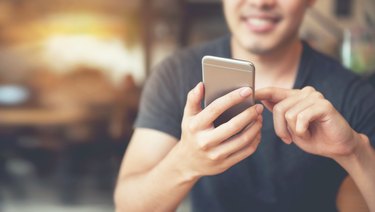 A collect call occurs when a person calls someone else's phone, and the charges are applied to the answerer's phone bill. At one time, landlines made this easy, but Verizon's decision to discontinue collect calls reduces those options. Although most providers don't allow you to accept collect calls directly to a cellphone for free, cheap calling options are available.
Accepting Collect Calls
If you're on a cellphone plan that allows it, accepting collect calls is simple – but not free. You receive an incoming call with the automated system on the other end letting you know you have a collect call. You can choose to accept or decline it.
If you accept it, you will see the call on your next phone bill. If you have AT&T, you'll pay $9.99 for up to 20 minutes of talk time. Any one can call you this way, with one exception: Collect calls can't be made from a pay phone to an AT&T phone.
Collect Calls With AT&T
Even with AT&T, one of the few cellphone providers that offer collect calling, the process isn't straightforward. Your friends or loved ones can't just place a collect call to your phone number. They must call 1-800-CALL-ATT and choose the Collect to Wireless option when prompted. They then enter your 10-digit wireless number to connect to you.
Confirm with your cellphone provider that you're able to receive collect calls. Some plans block that option by default. Contact your provider if you think this option isn't working for you.
Third-Party Collect Calls
Even though most U.S. cellphone carriers don't accept collect calls, other options are available. Third-party services such as 800-Call-4-Less let your caller place the call through the service and charge you if you accept the call. It's important to note, however, that you pay an exorbitant fee for these types of services.
To use a service like this, your caller dials a designated number and follows the prompts to make the call. You have to accept the call for the call to go through.
Google Voice Option
There are few ways someone can call you collect without it costing either of you, whether they are calling from a cellphone or landline.
One of the easiest ways to make calls that are free for both of you is to set up a Google Voice number that your friend or loved one can use for making free phone calls to you.
With Google Voice, your caller signs up for the service, chooses a number and starts making phone calls. A Google account is required, but as soon as your friend has one, he can start making free phone calls using his own phone. Google Voice numbers also provide voicemail.
Calling Cards
If someone plans to contact you regularly and needs you to pay for the calls, one of the best options is to give them calling card. These cards usually sell in amounts between $1 and $20, and you can buy either domestic or international versions.
The best thing about calling cards is how easy they are to buy. You can find them at most convenience stores, grocery stores or superstores, or you can buy them from phone companies or online. If you shop around, you can find cards with extremely low fees for calls, saving you the extra money you would have spent paying for collect calls.