Toshiba TVs feature a hidden service menu that lets you adjust advanced picture and device functionality settings. While the service menu tools are useful for a trained service professional, an inexperienced user could adjust them in such a way that dramatically disrupts how the TV works or damages the internal memory. The service menu is intended for troubleshooting and repair. You need a remote to access service mode: Universal remote controls may not work.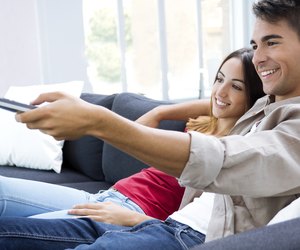 credit: nensuria/iStock/Getty Images
Mute Button Method
Most Toshiba flat screen LCD and LED TVs use the mute button method for accessing the service menu. To access the menu, set the volume to minimum and press the "Mute" button twice on the remote control. Next hold the mute button down and press the "Menu" button on the TV set to launch the service menu. You can exit the service menu by turning off the TV set.
Volume Down and Number Nine Method
Toshiba's CRT TVs use an alternative method to enter the service menu. You can access the service menu by holding the "Volume Down" button on the TV set and pressing the "9" button on the remote control at the same time for two or more seconds. Sets with built-in DVD and VHS players may include separate service menus for each device. For example, you can override the DVD Parental Control lock by simultaneously holding the "STOP" button the TV set and "7" button on the remote for three seconds.