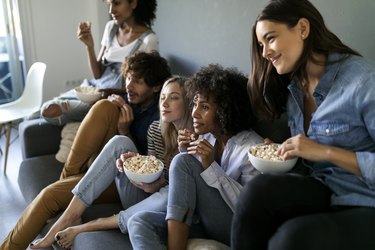 If you've ever misplaced your TV remote, you aren't alone. Whether you lose your TV remote somewhere in your couch or a mischievous child hides it, when you need to adjust something on your TV, you have a problem. Most TVs have physical buttons to control the power, volume and channel setting, but accessing the menu system for your TV without the remote isn't always so easy. However, try these approaches before giving up and getting a replacement for the missing remote.
Searching for the Physical Buttons
If you lose the remote for your TV or you realize there's no menu button on the Vizio remote, for example, the simplest solution is to check for physical buttons on the TV itself. The buttons are located on the front of the TV toward the bottom on many Vizio, Philips and Samsung TV models. In some cases, the buttons are located somewhere else, such as on the back of the TV or on one of the thin sides.
Search around your TV for a panel with buttons. They won't be obvious and might not even protrude from the body of the TV. If you locate the array of buttons, it's worth noting that it might not include a menu button. It could only have keys for channel and volume changes, and possibly for changing the input source for the screen.
Model-Specific Instructions
The best approach for finding the physical buttons and learning how to access the menu without a remote is to find the instructions for your specific model. Look for the instruction manual for your TV, either the one that came with the TV when you bought it or a digital version online.
You can search online for instructions for accessing the menu without a remote for your specific TV model. For example, Samsung's instructions vary the advice according to the model number, so you can easily find the specific information for your set.
Apps and Other Options
If you have an Android phone equipped with an IR blaster, you can send infrared signals using your cellphone in the same way a TV remote does. All you need to do is download a TV remote control app for your smart phone, and you can control your TV just like you would with your original remote control. This is probably the best option if, for example, you want to access a Sharp TV menu without a remote with no menu button on the set.
Other options depend on the TV and equipment you have, too. If you own a Google Chromecast and Google Home, you can control your TV using the app on your phone, for example. It doesn't give you access to your TV's native menu system, but it allows you to choose content to stream and much more.
Vizio TV Menu Without Remote
Some TV manufacturers have specific tools you can use in place of your traditional TV remote. For example, for all Vizio smart TVs, you can download the Vizio Smartcast app available from both Google Play and the iOS App Store. When you open the app, tap the Control option from the home screen to go to a page that lists your available devices. From there, select your television; both your phone and TV must be connected to your home's Wi-Fi network.
After you select your TV, a menu appears that turns your phone into a remote control for your TV, allowing you to enter the menu or make any other changes you need.