The first time you run your version of Microsoft PowerPoint following installation, a prompt will appear requesting you to activate your software. It is important to activate your product, as this validates your application as genuine Microsoft software. Not only will you be reducing piracy, which is the illegal production and distribution of software, but you also ensure that you are able to use and enjoy PowerPoint to the fullest. Many applications will cease to function properly if they are not activated within 30 days of initial use.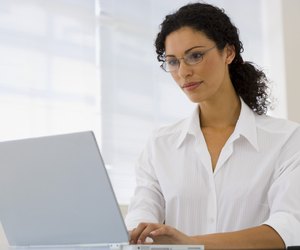 credit: Jupiterimages/Pixland/Getty Images
Activate Microsoft PowerPoint Online
Step
Go to the "Help" menu in PowerPoint 2003 and select "Activate Product." In PowerPoint 2007, click the "Office Button." Click "PowerPoint Options," click "Resources" and then click "Activate." In PowerPoint 2010, go to the "File" tab. Click "Help" and then select "Activate Product."
Step
Enter the "Product Key," which is a 25-character code on the CD case of your version of Microsoft PowerPoint. If PowerPoint was installed on your computer when you purchased it, look for the key on the computer box or with the included discs and paperwork. Click "Next" after entering the key.
Step
Click the "Accept" button to accept the license agreement and continue.
Step
Select "I Want to Activate the Software over the Internet." Click "Next."
Step
Select an option in the "Register with Microsoft" box. If you choose to register, fill out the required information. Click "Next" and wait for the wizard to complete the activation.
Activate Microsoft PowerPoint By Phone
Step
Follow steps one through three as listed in the previous section.
Step
Select "I Want to Activate the Software by Telephone." Click "Next."
Step
Select your location in the drop-down list. This will ensure you receive a phone number for your calling area.
Step
Call the activation number provided and speak to a customer service representative. After confirming your software with you, the representative will provide you with an activation code.
Step
Type the code the representative gave you into the "Confirmation ID" fields. Click "Next" to complete the wizard and activate PowerPoint.