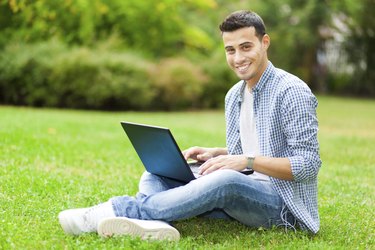 Add your important contacts to Outlook 2013 with the New Contact button in People. You can add new contacts from anywhere in Outlook using keyboard shortcuts or by clicking "New Items" and then "Contact" in the Home ribbon. You can also add a contact to Outlook directly from an email message containing the person's contact information.
Adding a New Contact Entry
Click "People" from the bottom navigation bar. Click the "New Contact" button in the New group, or press "Ctrl-N," to open the Untitled - Contact window. Alternatively, you can create a new contact from anywhere in Outlook by pressing "Ctrl-Shift-C." Fill in the contact information, such as name, email, and phone number. Click "Save & Close" in the Actions group to save the contact and close the window -- or click "Save & New" if you want to continue to add new contacts without repeating steps.
Saving a Contact from Your Email
Open an email containing the information you want to save. Right-click the person's name or email address in the message's address field -- including "From:," "To:," "Cc:," or "Bcc:." -- then click "Add to Outlook Contacts." A floating window appears with the contact information you selected. Add additional information into the contact fields and then click the "Save" button. Some senders may attach their contact information to their email as a VCF file -- known as a vCard. Double-click this attachment, add any additional information and then click "Save & Close" to save the contact to Outlook.