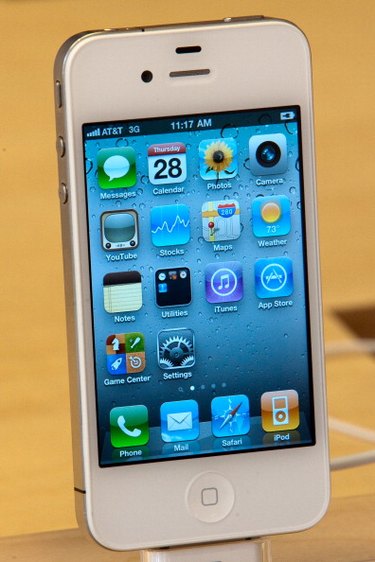 One of the hallmarks of the Apple iPhone is its intuitive interface, allowing up to 11 home screens with icons leading to built-in applications and downloaded apps. The operating system, called iOS, allows you to rearrange and organize the icons in a variety of ways, but adding a new icon is only possible through two actions. A new icon appears on your home screen when you install a new app or when you set a web page as a shortcut icon.
Add a New App
Step 1
Download a new application from iTunes. This can be a utility, game or productivity app. Many apps require a fee to download, but many are also free.
Step 2
Click your iPhone in the Devices menu in iTunes. The Summary information for your iPhone appears.
Step 3
Click the "Apps" tab and enable the "Sync Apps" option if it isn't enabled. If you click "Sync Apps" to enable that option, then click "Apply."
Step 4
Click "Sync" in the lower-right corner of iTunes and wait as your iTunes library is synced to your iPhone. When the process is complete, the new icon for the installed app will appear on your iPhone home screen.
Add a New Website Shortcut Icon
Step 1
Press the "Safari" or other browser software icon on your iPhone.
Step 2
Enter a website address in the URL bar for a website that you want to set as a shortcut on your home screen, and then press "Go." Wait for the website to load.
Step 3
Press the middle button in the navigation bar at the bottom of the iPhone screen. It appears as an arrow pointing out of a box.
Step 4
Press "Add to Home Screen." The Add to Home screen appears.
Step 5
Enter a name for the shortcut (also known as a web clip) and press "Add." The icon for the shortcut will appear on your home screen.