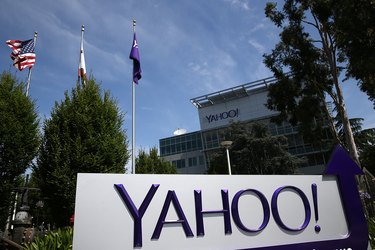 The only app that Yahoo has available in the Microsoft Store is the Yahoo Mail app. However, after the app is installed in Windows, it doesn't automatically appear on the Start screen; rather, it appears in the list of all the apps on your machine and you need to choose to make it available on the Start screen. You can also place a shortcut to the Yahoo Mail app on the taskbar in the Windows 8.1 desktop, or create a shortcut link on the desktop that takes you directly to the Yahoo website.
Yahoo Mail App
Step 1
Download and install the Yahoo Mail app from the Microsoft Store (see Resources).
Step 2
Click the down-pointing arrow in the lower left corner of the Start screen to view the Apps screen, which displays a list of all of the apps available on your computer.
Step 3
Navigate to the Y section and then right-click "Yahoo! Mail" to open a context menu.
Step 4
Click "Pin to Start" to place an icon for the Yahoo Mail app on the Windows 8 Start screen. Alternatively, click "Pin to taskbar" to pin a shortcut icon for Yahoo Mail to the taskbar on the Desktop screen.
Yahoo Web Shortcut Icon
Step 1
Press "Windows-D" in the Windows Start screen to change to Desktop Mode.
Step 2
Right-click anywhere on the desktop to open a context menu.
Step 3
Click "New" and then click "Shortcut" to open a Create Shortcut dialog box.
Step 5
Enter "Yahoo" in the "Type a name for this shortcut" field on the next screen and then click "Finish." A new icon appears on your desktop featuring the icon of your default Web browser.
Step 6
Double-click the new shortcut link you created. The link opens the Yahoo home page in your default Web browser.