Apple's iTunes application makes it easy to directly download audiobooks purchased from Audible.com and install them on your iPod. With this function, you can automatically update your music player with books purchased from the partner site once you have configured your iTunes application to do so. Setting up the procedure takes a few minutes the first time, but, afterward, files transfer automatically.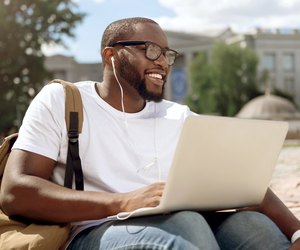 credit: Zinkevych/iStock/Getty Images
Step
Start iTunes on your computer.
Step
Click on "Advanced" in the top menu. Then click on "Authorize Audible Account" at the bottom of the menu.
Step
Input your iTunes account information (username and password) and your Audible.com account information (username and password) when prompted. This will automatically open Audible.com's homepage in your Internet browser.
Step
Download the Audible Download Manager when prompted if it is not already installed on your computer. This is an application that streamlines the downloading of audiobooks from Audible.com. Note that you cannot download audiobooks from Audible.com into iTunes without this application.
Step
Click on "Audible Delivery" when the Audible Download Manager opens after installing. Click the checkboxes next to "Start Audible Manager" and "Start iTunes" in the window that opens. Then click "Ok."
Step
Go to "My Library" in your Audible.com account, and select the audiobooks you want to download. These will now automatically be placed in your iTunes library for download onto your iPod.