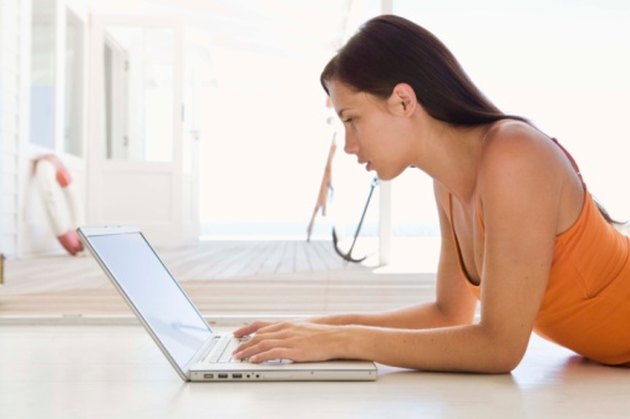 As of October 2010, Facebook does not support music embedded in individual pictures or within picture albums that it hosts. A common work-around is to create a slideshow-style video with music and post it on Facebook. There are free and inexpensive programs available online, such as those offered on Animoto.com, that you can use to create simple photo slideshows with music. The free version of Animoto allows you to make 30-second video slideshows using eight to 15 pictures and one song per slideshow. Although creating picture slideshows with music for Facebook might seem like it would be complicated, it really is quite simple.
Step 1
Visit Animoto and create a free account (See Resources).
Step 2
Click the "Create Video" button.
Step 3
Select a style for your slideshow from the provided list by clicking on a thumbnail, then click the "Free" link to confirm that you want to choose this slideshow style.
Step 4
Upload eight to 15 pictures from your computer for your slideshow by clicking the "Upload from your computer" button. Hold down the "Control" button (ctrl) on your keyboard to select multiple images from the list of available pictures on your computer with your mouse. This will allow you to upload all of the slideshow images at one time.
Step 5
Reorganize your pictures, if needed, by using the "Shuffle" button. Animoto also offers buttons to rotate pictures and add text to your slideshow, if desired. Click the "Done" button to save the order and format of your picture slideshow. This will automatically take you to the "Music" tab to choose your music.
Step 6
Select music from the Animoto music collection by clicking the "Select music from our collection" button. Choose a genre (e.g., top 40, rock, country) to search the collection for a song to accompany your picture slideshow. Once you have identified a song that you would like to use, choose the "Select Radio" button. This will automatically take you to the "Finalize Your Video" tab.
Step 7
Review the video settings, make any changes according to your preferences, and click the "Continue" button.
Step 8
Add a title and a description to your slideshow and click the "Create Video" button. Your photo and music selections will process and become available as a slideshow within a few minutes.
Step 9
Share your picture slideshow with music on your Facebook profile page by clicking the "f" (Facebook) button in the top right-hand corner of your slideshow.
Things You'll Need
Animoto basic account

Digital pictures

Facebook profile page