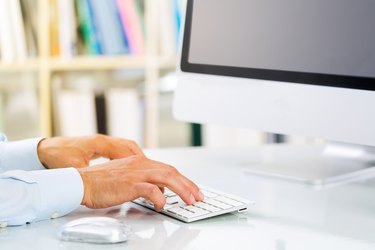 To change the brightness of your desktop computer's monitor, you formerly had to either use the keys on the monitor or find a special menu within your computer and use a slider. However, certain computers are now equipped with a keyboard shortcut that allows you to change the brightness setting of your monitor on the fly. Not every desktop computer comes equipped with this ability, and if your desktop computer keyboard doesn't have an "Fn" key, it's unlikely there's a keyboard shortcut you can use. The arrow keys you need to use will typically have a picture of a sun on them.
Step 2
Press either the "UP" arrow key or the "RIGHT" arrow key to increase brightness. Depending on your keyboard, one will likely be brightness (the one with the sun on it) and the other will be contrast.
Step 3
Press either the "DOWN" arrow key or the "LEFT" arrow key to turn down the brightness. As before, only one of these will adjust the brightness (the one with the sun on it) the other will change the contrast.