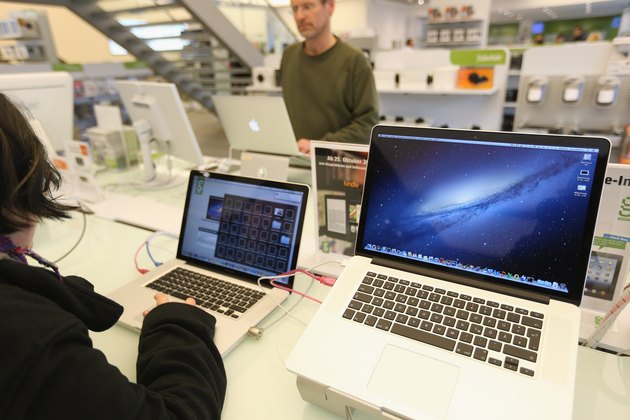 The advent of digital video cameras has made it easy to capture precious moments and transmit that recording to friends and family. Baby's first steps, blowing out birthday candles and other special moments can be recorded using a smartphone or a small digital camera, then emailed to friends and family following a few simple steps. The process is easy on a Macintosh computer using Mac OS X, version 10.4 or later.
Capture Image
Step 1
Record the event on a digital video camera. If you own an iPhone, 3GS, you can record video on the phone. If you own a separate digital recorder, make sure you have an appropriate cable or connector to the USB port on a Macintosh computer. USB is standard-sized, as the name implies, Universal Serial Bus.
Step 2
If you own a Flip, after you have recorded the event, simply plug the camera into the USB port on the Mac computer, and double click on the "FlipVideo" icon that appears on your desktop.
The Flip comes with software that needs to be installed on your Mac. Click on the "Flip Video for Mac" icon that appears inside the desktop Flip icon, and it will automatically install the appropriate software.
Inside the FlipVideo icon, a window opens and your video is stored inside the DCIM folder. Drag the file to your desktop.
If you own an iPhone, you have choices. After recording the video, if your iPhone is linked to a cloud computing e-mail service, like Mobil Me or gmail, you can select the "share" icon in the lower left corner of the video screen, and the choice of sending your recording as an SMS message, or as an email, will be available.
Or, you can sync your iPhone with your Mac computer, and the video will appear in iPhoto, and the option of e-mailing it from that software program, again under the "Share" menu, will be offered.
If you don't own a Flip or an iPhone, connect your video camera to your computer, and transfer the file to your Mac desktop.
Step 3
After the video file has been moved to the Mac desktop, launch the mail application on your computer. On a Macintosh, this can include Apple's proprietary software, Mail, Mozilla's Thunderbird or Microsoft Office Entourage.
Step 4
Create a new email document, and complete the address line with the intended recipient(s). Put a descriptive statement in the subject line, and then write a brief description in the body of the email.
Step 5
At the top of the email in all three Mac mail applications, there is an icon or a text that is either a paper clip, or the word "Attachment" or both. Click on this button and a dialog window opens.
Step 6
Navigate to your desktop and click on the video file to "attach" it to your email.
Step 7
Click "Send," and the email, with the video attached, is on its way.
Things You'll Need
Mac OS X Version 4 (Tiger), or later

Digital video recording device (a Flip, or an iPhone preferred)
Warning
Video files can consume significant file size. It is not unusual for a short video to measure more than a megabyte in file size. With that in mind, keep the videos you plan to email brief and smaller in size. This assures that the receiving email box will be able to accept the file, and it won't get rejected for its size.