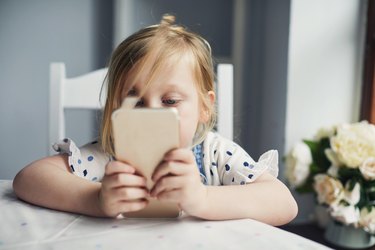 Giving kids access to an Android device can be scary at times, especially if it's your Android device. There're plenty of opportunities to download paid or malicious apps or run up a big bill through in-app purchases. One way to reduce the risks is through the parental controls Google offers through the Play Store, Android itself and its Family Link app.
Pin a Screen
If all you want to do is share your phone occasionally with a tot and not have it backfilled with new apps — or worse, find that your data's used up or you owe $40,000 for a new car — the simplest option is to open an age-appropriate app and then pin it to the screen so they can't do anything with any other app.
It's easy to set up. Go into Settings, scroll down to Security and then turn on App pinning. Choose Lock device when unpinning and select your preferred unlock option. To pin an app, open it and then press the square Overview button to open the multitasking screen. Drag your chosen app to the middle of the screen, and a pin icon appears. Tap it, and the screen is locked to your chosen app.
To unpin, hold down the Back and Overview buttons, and your selected unlocking option appears.
Parental Controls to Stop Downloading
If you've set up a separate Google account on your phone for each kid or if they're old enough to have their own devices, you can use the Play Store's parental controls to restrict or block app installation on the Android device.
Using your child's device, open the Play Store app and tap the menu in the top left corner. Choose Settings and then Parental controls, and turn on the controls. Choose a PIN your kids won't know and tap the kind of content – in this case, apps and games – you want to restrict. Essentially, you've set a password for Google Play free downloads.

Aside from basic downloading, you also want to restrict paid apps and in-app purchases. Apps specifically targeted at kids 12 and under already block unauthorized purchases, but to make it universal, you need to go back to the main Parental Controls menu and choose Require authentication for purchases. Set it to All purchases, which means your PIN must be entered for any purchase.
Using Google's Family Link
Changing settings separately for each device can be time-consuming, especially when they're accidentally forgotten at a friend's house or in a school locker. For a more robust child-management solution that prevents downloading and more, opt for Google's Family Link app. With it, you can manage permissions for multiple kids on multiple devices, as long as they run Android 6.0 or later or Chrome OS version 71 or later, in the case of Chromebooks.
Open the Family Link app on your own phone and select your child. To change permissions on a single app, choose Apps Installed and then More. From the Allowed list, choose the app and tap App permissions. To change a permission across multiple apps, select your child and then choose the Device card. Tap Settings and then App Permissions, and choose the permission you want to change.
You should also set all permissions to Only parents, so your kids can't change them back. You can manage permissions similarly from the Family Link section of the Google Families site. Both the app and the site allow you to monitor and guide your kids' usage in broader ways than simply changing permissions.
Education Counts
Whichever variation on parental control you choose to use, it's not a replacement for teaching your kids good online habits. Help them recognize the signs of poor-quality or malicious apps, manipulative in-app purchase prompts, and other forms of scam-y activity.
If you've given access to social media apps or games with online communities, you should also help them recognize inappropriate behavior and messaging. Aside from sexual predators, many hate groups view online communities of youngsters as fertile ground for recruiting and for normalizing their vocabulary and attitudes.