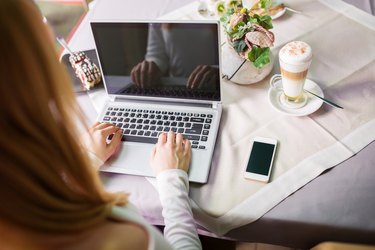 The App Store uses the language you set on your mobile device during the setup process. If you accidentally changed the language on your device, you can change it back to your preferred language through the Settings app. However, if you need to change the country or region associated with your Apple ID, then you need to access your account settings. When you move to another country, changing the country or region allows you to view the App Store for that country. After you change the country, you won't have access to the purchases made from the previous country, so you should consider creating a new Apple ID instead.
Change iPhone Language
Step 2
Select the "General" option.
Step 3
Choose the "International" option.
Step 4
Select the "Language" option. Choose the new language from the list of options and tap "Done." This changes the language for all functions on the iPhone.
Change Country or Region
Step 1
Tap the "App Store" icon on your iPhone. Tap the "Featured" tab and scroll to the bottom of the screen.
Step 2
Select the option to "Sign In." Choose "Use Existing Apple ID" and provide your credentials to access the App Store, if you haven't already signed in.
Step 3
Tap your Apple ID at the bottom of the screen and select "View Apple ID." You may need to provide your credentials again.
Step 4
Select the "Country/Region" option.
Step 5
Choose the "Change Country or Region" option.
Step 6
Tap the "Store" menu and select your country or region from the list.
Step 7
Select the "Next" button, review the terms and conditions and tap the "Agree" button. Confirm by tapping "Agree" again.
Step 8
Provide a new payment method and billing address. Select the "Next" button to complete the process.
Tip
If you have an incomplete season pass or multi-pass in iTunes, you must complete the current passes before changing your country. You also need to disable any current iTunes Match subscriptions or wait until the current subscription expires. Rentals, pending refunds and store credits remaining in your account can also prevent you from changing your country. Redeem any store credits and wait for rentals to expire before changing your account.
Warning
Information in this article applies to iOS 7. It may vary slightly or differently with other versions or products.