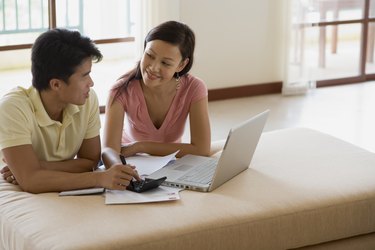 Online banking has become extremely popular, saving people time, stamps, aggravation and gas money. SunTrust's online banking system includes an internet service that allows customers to verify balances, transfer funds, and update personal information. Additional offerings include a mobile application which allows customers to perform basic transactions and deposit checks without setting foot in a branch.
Accessing SunTrust's Web Service
Step 1
Open a Web browser and go to SunTrust.com.
Step 2
Enter your username and password, and press "Enter." If you've never used the service before, click on the "Sign Up Now" link and follow the instructions to register your account.
Step 3
Click on the link corresponding to the account you'd like to access.
Accessing SunTrust's Mobile App
Step 1
Text "APP" (without quotation marks) to 786411 to receive a download link. Alternatively, you can obtain the app by going to either the iPhone App Store or Android Market, depending on which operating system your mobile device uses.
Step 2
Open the application. It may take a moment to load. Note that you cannot register a new account with online banking via the mobile app. To register a new account, you'll need to visit SunTrust.com first.
Step 3
Enter your username and password and tap "Sign On."