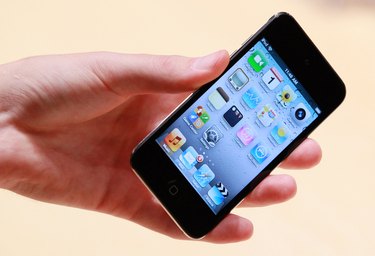 Apple, the maker of the iPhone, built in Bluetooth for headsets and streaming music, but not for file transfer. You must have a "jailbroken" iPhone to Bluetooth files like ringtones and they can only be Bluetoothed to another iPhone because they are in a special format (.m4r) that other phones cannot read. It'd be pointless to send them to another phone, anyway, because the phone wouldn't be able to use it. Since ringtone files are usually only 30 seconds long or less, they are small in file size and don't take long to transfer with Bluetooth. If you already have a jailbroken device, you need only to download iBluetooth. Transferring files is all downhill from there.
Step 1
Launch the Cydia app. This is the application that all jailbroken phones use as their jailbroken "app store;" it houses all the applications that your phone cannot use unless it is jailbroken.
Find and download iBluetooth. It comes with a 15-day trial, and after that you'll have to purchase it if you want to continue using it (a link is provided in the Resources section for more information on iBluetooth). IBluetooth is the only option for this task; there are no other Bluetooth applications available for the iPhone, but it is an effective one--it can transfer any file to another device.
Step 2
Turn on Bluetooth after the iBluetooth app installs. To do this, go to "Settings," "General," "Bluetooth," then slide the tab to "On."
Step 3
Turn on the other iPhone's Bluetooth using the same steps outlined in Step 2. You'll also need iBluetooth installed on it to complete the task. Launch the iBluetooth program from that phone and wait for the first iPhone to be ready to transfer the ringtone. You must have another iPhone to transfer ringtones, because no other phone will be able to use the ringtones that an iPhone uses. Their special formatting is only for iPhones.
Step 4
Launch iBluetooth and at the bottom tap on "File system." Use this menu and navigate to "Library," then "Ringtones." When you've found the ringtone you want, tap "Send to device." Select the name of the receiving device from the list of any other devices that have Bluetooth turned on and are in your range for it to detect. It will send an invitation to the other iPhone to begin file transfer. Remember to select your partner's iPhone name and not any other device, or the ringtone won't go to the right place.
Step 5
Accept the invitation on the other iPhone. It will display the message "(insert iPhone name here) would like to transfer (insert ringtone name here) to you. Do you accept?" Hit "Save as" and choose "Library," then "Ringtones" as the destination for it to save to. It will then transfer the ringtone via Bluetooth to the other iPhone.