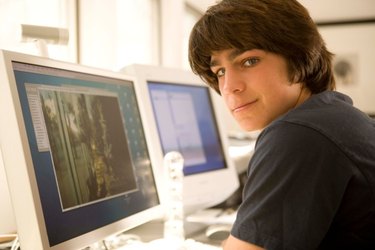 Apple iMovie is an application that allows users to create movies out of home videos and photographs. You can edit your home videos and photographs into your own movie that you can burn on DVD. Add music and transitions to your videos, and you can even make a trailer for your own home movies. Each frame can be edited using iMovie's simple software, and you can give your video and photographs different looks by creating blurry transitions.
Step 1
Navigate to the Project toolbar and select the exact frame you want to blur by clicking on that frame.
Step 2
Click on the box in the bottom left corner of the clip to bring up a menu, and select "Clip Adjustments."
Step 3
Click on "Clip" on the left side of the Inspector menu.
Step 4
Click the grid next to "Video Effects" to bring up a menu of the different effects and transitions you can use to blur your frames.
Step 5
Select the effect you'd like to use by clicking on it. Two effects that produce a blurry frame are Romantic and Dream. Click on the effect to alter your frame, then click "Done" when you are finished.