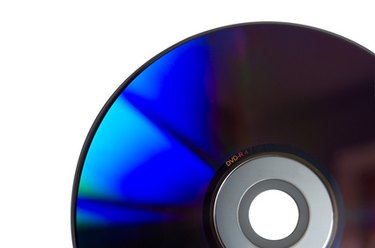 When you rip the individual files from a DVD, those files include video object files, or VOBs, disc information files, or IFOs, and IFO backup files, known as BUPs. All of these files together make the DVD play properly when the disc is placed into a DVD player or computer drive. In order to burn a DVD that works correctly from VOB, IFO and BUP files, you must put all of the files into one single folder.
Step 1
Open the folder on your hard drive that contains the VOB, IFO and BUP files that you want to burn to DVD. Once in the folder, right-click into any empty area in the folder window and select "New>Folder." Type "Video_TS" for the folder name. Drag each VOB, IFO and BUP file from the main folder into the "Video_TS" folder you created.
Step 2
Create an "Audio_TS" folder. Again, right-click any empty space in the main folder window, choose "New>Folder," and enter "Audio_TS" as the folder name.
Step 3
Right-click in the folder a final time, select "New" and then "Folder" to create a third folder. Name the folder with the title of the DVD the files came from or something else that distinguishes it from the other folders, such as "DVD." Drag the "Video_TS" and "Audio_TS" folders into the "DVD" folder.
Step 4
Download and install a disc-burning program that can burn "Video_TS" and "Audio_TS" folders. Folder2ISO, ImgBurn and Magic ISO Maker are all programs that can perform this task (see Resources.)
Step 5
Open the burning program that you downloaded from "Start>All Programs." When the program opens, go to the folder on the hard drive where the "DVD" folder you created is saved in the application's "Source" pane. Select the "DVD" folder and click "Open" to add the folders with the VOBs, IFOs and BUPs to the DVD project.
Step 6
Insert a DVD in your computer's DVD drive and select the drive from the "Destination" menu in Magic ISO Maker or ImgBurn, and click "Burn" to burn the file to disc. In Folder2ISO, click the "Output" button and choose a hard drive folder to save the ISO into, and then use any standard DVD-burning program to write the ISO file to a DVD.