Your computer can be a very able-bodied phone with the right software installed. Voice and video services offer you a wide range of options for making calls from your PC to a cell phone. Many services offer free calls when you're calling another subscriber to that particular service. However, Google Voice offers you free, unlimited-length calling to domestic cell phones once you create an account.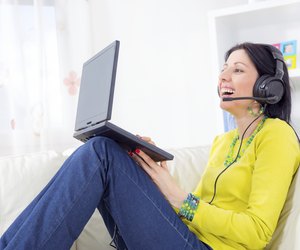 credit: Jovanmandic/iStock/Getty Images
Calling With Google Voice
Step
Navigate to the Google Voice page and install the voice and video chat plugin (see link in Resources). You will need to sign up for a Google account if you do not have one already.
Step
Follow the steps to get your Google Voice phone number or to tie your Google Voice account to your cell phone.
Step
Navigate to Gmail and sign in (link available in Resources).
Step
Click the telephone icon below your list of mailboxes. This will cause a dial pad to appear.
Step
Dial the number you wish to call and press "Call." Google will now call the number and use your computer's microphone and speakers to allow you to chat with friends.
Free Software-Based Calls
Step
Download a voice service that allows you to call other service subscribers for free. Services that allow free calling between members include Skype, iCall and Viber.
Step
Verify that the service is installed on both your PC and the smartphone you want to call.
Step
Run the service on both your PC and the mobile phone. Setting up a time to talk on the phone will help ensure that the app is running on the cell phone as well.
Step
Place the call within the service. To avoid data charges, the smartphone user may need to be connected to a Wi-Fi network.
Free Website Calling
Step
Navigate to Lumicall or another website that allows for free calling to certain subscribers (link in Resources).
Step
Type in the number you wish to call.
Step
Click "Allow" if prompted to give the site access to your microphone.
Step
Click "Connect" to connect to a call that has been properly dialed once the service verifies that the person you're calling is available and is a subscriber.